Community Developments - Early developments on North Hutchinson were conceived as one or two story single family units. This was true for both the Fort Pierce Shores and Coral Cove Beach areas. It wasn't until the building of Sea Palms that height of a structure became a consideration. Initially developers would take a plan to the County Commission for approval on a case by case basis for there was no overall planned zoning for the island until 1961. However as developments emerged, so did the concerns of residents. Because of restricted view, building height became a concern with heights of 35, 60, and 125 becoming the most common figures. Population density (dealt with by units per acre) became a consideration with the emergence of high rises. There were conflicting motivations on the part of County Commissioners. They needed to satisfy constituents but also had motivations to get as much tax as possible per square foot of land, thus tending to approve developments (and variances when they came into play) unless the residents protested. This situation was the prime mover for creation of codes and zones for planned development and also helped cause creation of the North Beach Association. In 1973 the County contracted for "Major Developments - Hutchinson Island Plan". The resultant plan showed mapping for both North and South Hutchinson Islands, including what already existed on the islands and the initial appearance on planning maps for land use codes. The only developments indicated for North Hutchinson Island at that time were Sandcrest, an area south of the Holiday Inn which was also on the map, Costa Del Sol, which turned into the Sea Palms Condo, Trail's End, Four Winds, and Bryn Mawr, which was really the Bryn Mawr Campground at that time.
As development progresses not all plans materialize. For example the following developments that never reached fruition were included in 1994 utilities planning documents:
Brefrank - 3 buildings with 169 units
Pinnacle - 36 units
Images - 3 buildings with 159 units
Sea Gate Towers - 4 buildings with 57 units
Beach Towers - 42 units
Approved developments at times are not built out to the approved size or in the planned time frames. All of these variables, in addition to the economy and other outside factors, make population projections a challenging game. Nonetheless, such planning is necessary for development of the required services, such as water, sewage, security protection, fire and rescue, highways, etc. on a timely basis. At the time of the 2007/2010 recession some of the development plans in process were suspended or terminated. Ocean View Estates was started in 1998 but never progressed beyond an entrance and driveway. Avalon Beach was platted for 48 units (8 ocean side) but sits in bank sale position in 2013 with only its front wall standing and several units built. Heron Cay was platted for 38 one story units with roadways and utilities already installed when the economic situation forced it into a bank sale.
The aerial view of North Hutchinson Island that follows provides an accurate picture of North Beach status in 2013.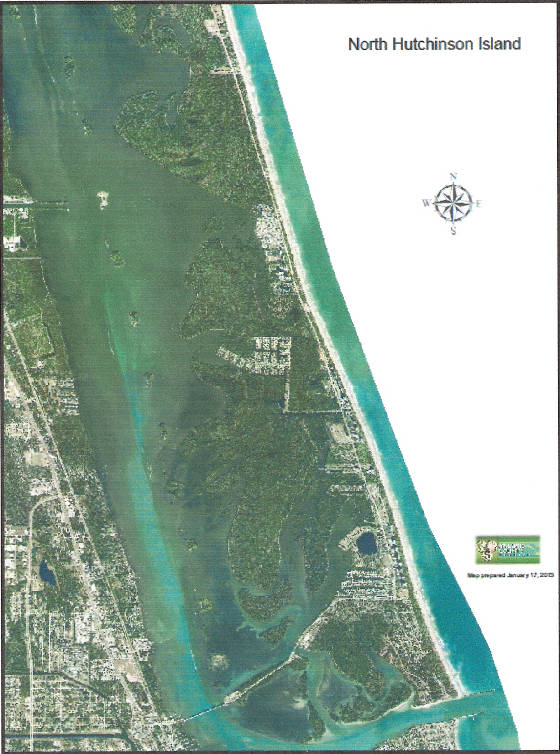 Less than half the island is devoted to residential purposes or the commercial activity in support of the residents, with the majority of the land devoted to parks and reserve areas as illustrated on the Public Owned Lands map that follows. The residential areas are split with about 30% for single family homes (namely Coral Cove, Queens Cove Community, and the residential area south of Shorewinds Dr., sometimes call Fort Pierce Shoals, several small parcels for limited commercial activities and the balance for condominiums (maximum 125 feet in height). About 95 acres of the latter category is the cooperative community of Ocean Resorts, which carries the same zoning as the condominium areas, but has self- imposed restrictions of 400 one story units and RV spaces. It is the only cooperative type community on the island. The zoning map shows the official county zoning as of 2013.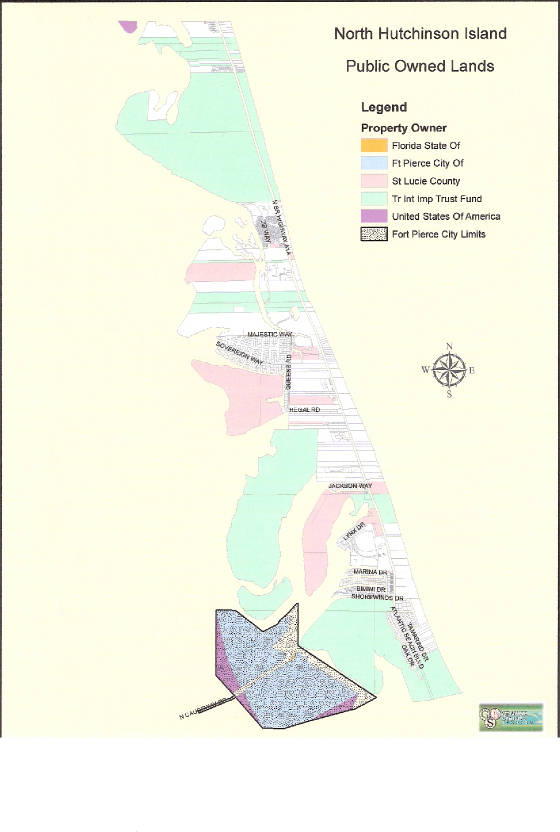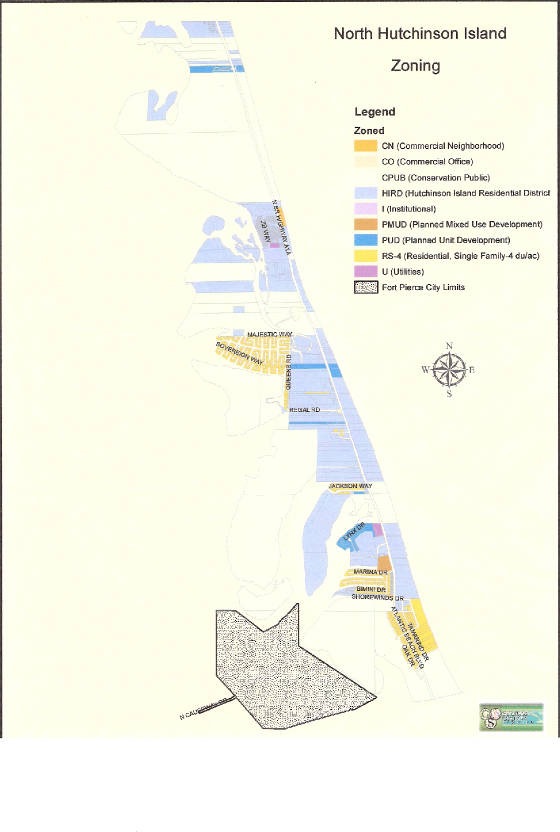 By 2013 there were 30 high rise structures on the island. The high rise condominiums are situated such that all have views of either the ocean or the lagoon, and a few even have the view of both. Building of the condominiums started in 1975 with Sea Palms (immediately south of the SEAL Museum) and has continued with 29 more until the real estate bust of 2008. The condos are situated with 19 east and 11 west of A1A and some park or preserve lands and non-high rise developments interspersed among them. There is not a one for one relationship between the number of high rises and condominium associations because multiple high rises can be part of one association and a condominium association is not always a high rise. In 2013 there were approximately 3,000 housing units on the island and when totally built out in accord with the 2013 zoning about 1,200 more units will be added, assuming no zoning changes.
Some of the associations were formed before the existence of the Florida statutes governing their operation. Also the early statutes went through much upgrading in their initial years. This caused consternation and compliance issues initially for some associations. By 2006 the statutes were more stable and better understood. Basic statutes applicable are:
718 - Condominium Associations
719 - Cooperatives
720 - Community Associations
Evolution of individual communities and associations on the island is contained in this section. Parts are organized on a chronological basis and parts as the input was created. Some association headings are merely reserved for future input. In some cases names have changed from that of the original development. All associations with NBA membership as of 2013 are listed. The following map shows the locations of communities as reflected in county records in 2013. Emergence of these residential areas also brought one more ecological problem, because the night time lighting that could be visible east of the ocean dunes was confusing the turtles nesting along the Atlantic beaches. Strict lighting constraints were adopted and enforced by the state to prevent disruption of nesting during the turtle nesting season (March through October on the Atlantic coast). There are 5 types of sea turtles that nest on Florida beaches, namely Leatherback, Green, Loggerhead, Hawksbill, and Kemp's Ridley. All are classified as either endangered or threatened. The Leatherbacks, the largest species, can be 8 feet long and weigh about a ton.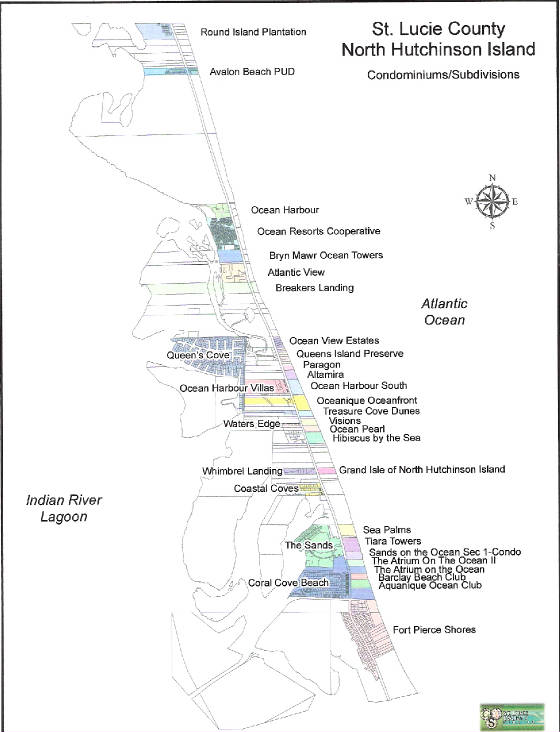 CORAL COVE BEACH Apparently the first major platting that reached the development stage on North Hutchinson Island was that for Coral Cove Beach. It was a proposed development that included single family homes, triples, multiple unit areas, and commercial family homes, triiples, multiple unit areas,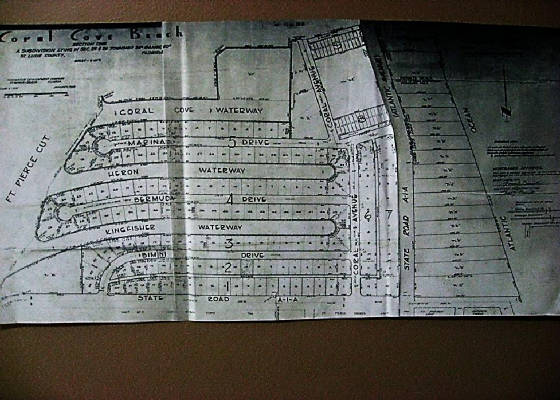 and commercial areas; and it spanned Indian River to ocean and ran from A1A on the south to Pepper Park on the north. The area west of A1A was divided into 16 blocks with anywhere from 9 to 54 individual lots included within a block. There were provisions for a commercial marina and a yacht club on the Indian River. All of the single level private residence lots of blocks 2 through 5 were water front lots on fingers off the Indian River. The 2 story structures along both the north/south and east/west sections of A1A were part of the platting and became the Galleon. All roads, including A1A were gravel for many years. Coral Avenue, Bimini Drive, Bermuda Drive, and Marina Drive were named in the platting and still serve the developed area. The area east of A1A was divided into 30 strips that ran from A1A to ocean with most strips being 100 feet in width. This is the area that became the hotel/motel and high rise condominiums in subsequent developments, with the first high rise being Sea Palms (originally Costa del Sol) just south of Pepper Park. A separate strip about 300 feet wide was reserved as a Private Park on the ocean for Coral Cove residents. Two nearly identical Abstracts of Title exist for properties in Coral Cove. They are over 1 ¼ inches thick and trace much history from 1492 to 1964. Reservations and Restrictive Covenants for the development were filed March 4, 1959 in St. Lucie County by Navillus Development Corporation. It applied to Blocks 1 through 9 (the only ones that would subsequently be developed) and covered items like set-backs, building square footage, heights, garages, out buildings, etc. for the residential lots and types of businesses for the commercial areas. There was a later filing, March 21, 1962, between Navillus Development Corp. and Lucie Development, Inc. that modified the coverage for unsold lots. The Commercial Marina and the Yacht Club were never constructed and Blocks 10 through 16 were not developed. The 2 story row units facing A1A (both Atlantic Avenue and Royal Palm) were a part of the original platting, as was the corner gas station. The area platted for the 2 story became the Galleon. There was platting for a commercial section where the strip mall along the west side of A1A, destroyed in the 2004 hurricanes, had existed. The original platted 300 foot strip from Atlantic Avenue to ocean for an ocean side park for Coral Cove Residents may have been part of the reason Coral Cove Beach residents gained beach access near the Atrium in August 1999. Dredging and docking and bulkhead construction were not so severally constrained in the early days so the one story homes sections had private docks having access to the Indian River. Such dredging would not be possible with the newer constraints imposed to deal with ecological considerations. There was other early dredging for harbor/dock constructions that probably would not be permitted with current restrictions. This would include that accomplished in Queens Cove and the Ocean Harbor North and Ocean Resorts docks/marina.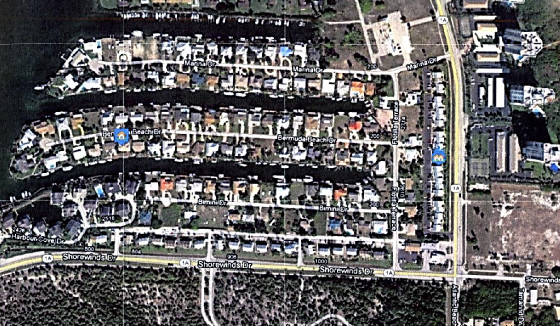 Coral Cove Community - 2010
SEA PALM CONDOMINIUM This was the first high rise condominium on North Beach. It was opened in, 1975. The developer was George Costa, who called it Costa del Sol with a Country Club like package.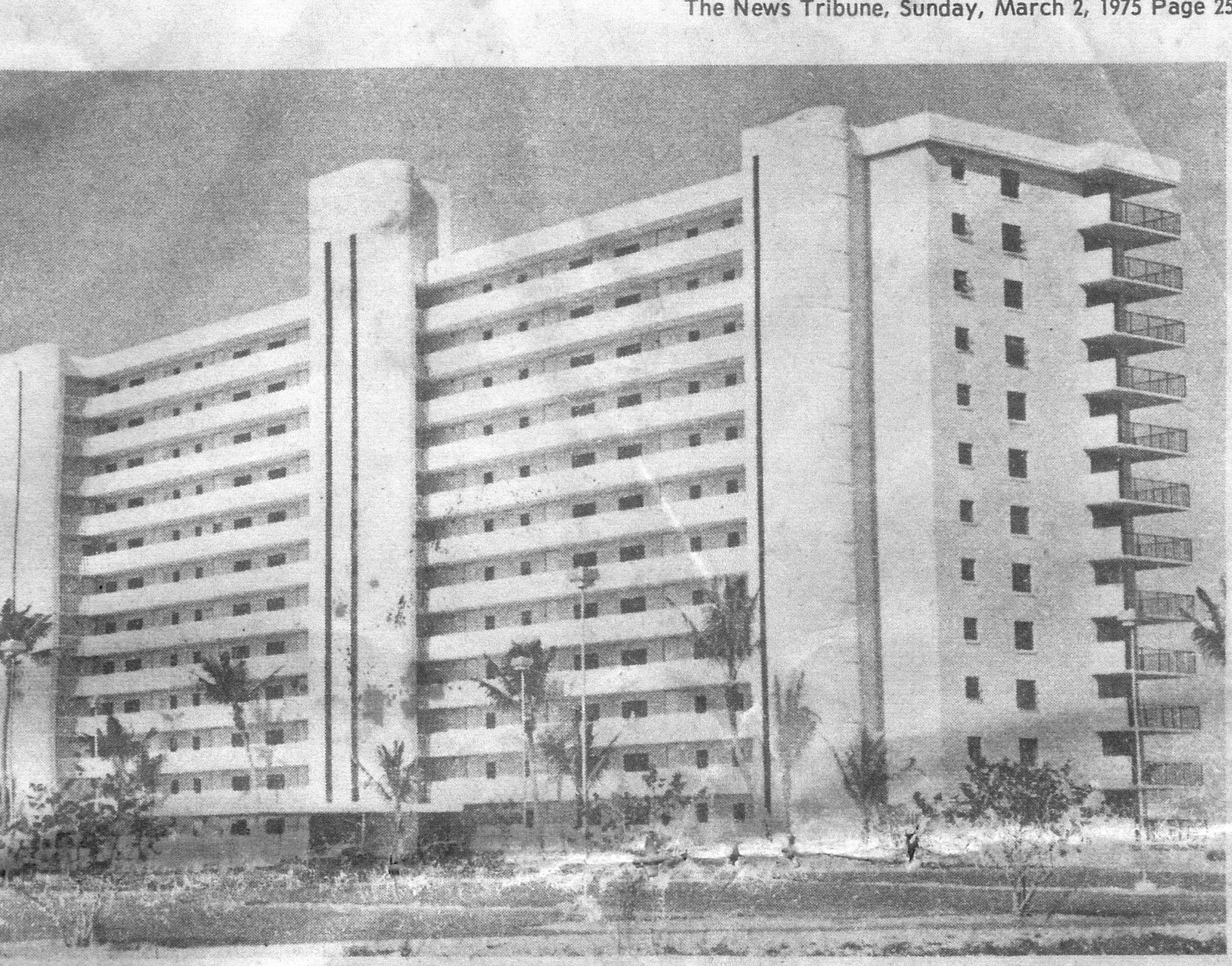 BRYNMAWR CAMPGROUND May 10, 1971 Bryn Mawr acquired title from ULTRAMAR for the area now occupied by Ocean Resorts CO-OP, a 2 acre County Sanitary facility, and the Byrn Mawr Condominium units. Actually Bryn Mawr, a girls school just outside Philadelphia, Pennsylvania, established 3 campgrounds in Florida. The first development was a campground in the area that eventually became Ocean Resorts. Originally It was strictly a campground with tent and trailer camping. The initial 2 acre water and sewage treatment facility was establish in the area now surrounded by Ocean Resorts and Bryn Mawr condominium units and acquired by the County from Dixon Ticonderoga (Bryn Mawr's successor February 28, 1984) in June 12, 1992 for $95,900 as they were consolidating the utility services on the island and taking responsibility for all water and sewage services. There were difficulties with the initial services provided because the sanitary water was high in salinity and not recommended for human consumption and the sanitation processing often became odiferous.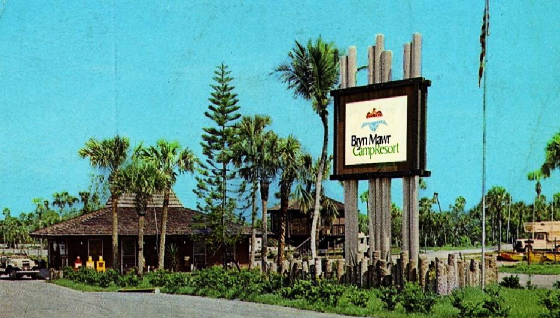 February 29,1980, Bryn Mawr separate the campground and established the Ocean Resorts cooperative. Several years later they established the Bryn Mawr Ocean Towers Association that led to the condominium lower development in place today.
OCEAN RESORTS CO-OP Ocean Resorts is a 400 unit gated residential cooperative located on North Hutchinson Island with waterfront on both the Atlantic Ocean and the Indian River Lagoon. In many regards it has grown into a gated small city with mostly permanent mobile homes and numerous on site constructed cement based housing. Whether it is tennis, boating, fishing, bocce ball, swimming, organized social events, kayaking or just hanging out with friends, it is done there! In this cooperative each unit owner does not have a deed, but rather has a Certificate of Ownership for one four hundredth of the Corporation plus a Proprietary Lease for a specific lot.
For taxing purposes the Proprietary Leases are included in the Tax Assessor's records as deed, even though there is no deed of record in Clerk of Courts records. The CO-OP still has a few lots that are used for Recreational Vehicles but tent camping disappeared several decades ago. Most units are now permanent housing with a mixture of manufactured housing (mobile homes & modular) and sturdy hurricane resistant on site construction. The cooperative maintains its own roadway system, its own electrical grid (buying bulk from FPL), its own water distribution system (buying bulk from the County), its own sanitary system (linking in bulk to the county), its own marina and boat ramp, very large heated swimming pool, tennis courts, club house, and loads of social events. It was initially thought to have about 34 acres of territory for the units and common facilities with about 1,200 feet of ocean front beaches and 1,400 feet of river front. However, on June 1, 2009 clear title was gained for about 65 acres of Queens Cove Peninsula and islands due west of Bryn Mawr and Ocean Resorts. Ocean Resorts had been taxed for this territory for many years. While most of this acreage carries zoning like the original acreage, it is common area for Ocean Resorts residents to use for recreational purposes and has not been used for residential development. CO-OP WEB site is (www.oceanresortsco-opinc.org) or for its history (www.historyor.com).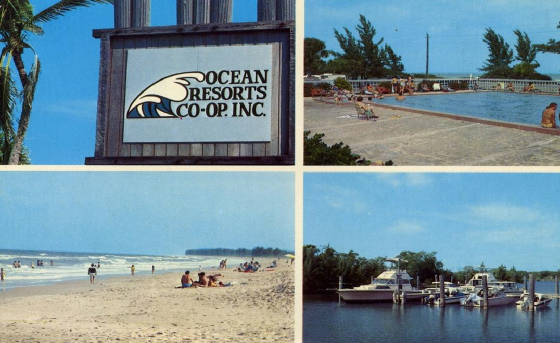 BRYN MAWR OCEAN TOWERS CONDOMINIUM (www.brynmawroceantowers.com)
Bryn Mawr was originally conceived as a gated condominium community consisting of four high rise towers each nine floors in height set on 13 acres running from the Atlantic Ocean to the Indian River. There were to be 207 units governed by one association. Articles of Incorporation were filed and recorded on April 6, 1983 and the Declaration of Condominium is dated May 19, 1983. Dixon Ticonderoga, the successor to Bryn Mawr Building Development Inc., developed the property completing only three of the condominium structures. The fourth building has never been constructed. The building rights rest with the Bryn Mawr Ocean Towers Association and currently there are no plans for construction. Any structure placed on that site must match the footprint and height of existing buildings.
The northern most oceanfront structure was constructed first and completed in 1984, followed by the river building in l985. All other structures-clubhouse, guard house, pool house and generator building- were constructed during that time period. The last building to be completed was erected on the south oceanfront site and was completed in 1990. There are 52 units in each building with the inside units designed for 1390 square feet and 1744 square feet for outside units. All units have balconies with views of the ocean and/or the river.
Amenities included an outdoor heated swimming pool; pool side clubhouse; saunas; tennis and shuffleboard courts; billiards and table tennis; putting green and dune walk. A bocce court, fishing pier, kayak dock, picnic area and gazebo were constructed at a later date. A unique feature-- a tunnel under A-1-A-provides access to the beach
The condominium was turned over to the control of the owners in 1995. The Board of Directors consists of five members, elected for two year staggered terms. Over the years 12 different owners have served as President of the Association. In addition to the Board of Directors there are standing committees which oversee and plan for the various needs and activities of the condominium. Owners have been generous in sharing their time and expertise for the benefit of all.
Visions - This condominium was built in 1993 and opened for occupancy January 1994. There are 26 units, 2 per floor, with each unit having both ocean and river view. Each unit has 2750 square feet housing, 3 bedrooms, 2 ½ or 3 baths, large living/dining room, large kitchen with adjoining glassed breakfast area, and a recreation room with library/reading area, and television corner. Each unit also has a 2 car garage. There are 2 elevators in the center or the structure which open directly into the units.
Oceanique - This was originally planned as the Carlisle (later changed to the Stafford) to be constructed on 20 acres, purchased for $1.2 million in 1999, and located between Ocean Harbour South and Treasure Cove Dunes. There were to be 15 units of 2,200 square feet with each having 3 bedrooms, 3 baths and a garage, with prices starting at $319,000.
Avalon Beach - Early 2006 Shear Homes purchased 15 acres from Ocean Estates Ventures for $20.5 million to build Avalon Beach, a 39 unit multi-million dollar complex, located about a half mile south of the Indian River County line with Avalon State Park located both to its north and south. Ocean Estates Ventures had purchased the land for $11.2 million and spent millions getting approval for residential development. A bank loan of $45 million was acquired for the development. Homes ranging from 4,000 to 7,000 square feet were to be priced in the $1.9 to $3.3 million range on the west side of A1A and $6 to $8 million on the Ocean front. Those not on the ocean would have an oceanfront cabana complete with bath and kitchenette. Reservations were being taken for a refundable $10,000 fee and response was immediate with 25 already in hand in January 2006. While construction was started immediately the economic downturn that originating in 2007 caused considerable alteration in the development activities.
Queens Cove (www.queenscove.com) Plans for the development of Queens Cove on North Beach began in the mid 1950's by Messrs. Stanley Sirotin and Max Bloch who together formed the Queens Cove Company with the intent of marketing lots to the many retired and soon-to-be retired military officers in the Washington, D.C. area, following the end of both WWII and the Korean War.
The Plat for Queens Cove Unit I and the Queens Cove entrance road (Regal Road) were recorded and approved by St. Lucie County in March 1958. Canals were built by dredging and filling, a process that would not have been permitted in later years and which became the source of numerous permitting problems over the years. The Queens Cove Company met with financial difficulties and in 1959 they turned to the Teamsters Union for financing, specifically to the infamous Jimmy Hoffa who was then the manager of the Union's pension fund. Teamsters' mortgage money notwithstanding, financial problems continued; there was infighting among the officers; and development plans were in litigation and on hold for many years. The Queens Cove Company eventually morphed into Lucie Properties who paid off the Teamsters $500,000 mortgage in 1971. In 1973, Alex and Robert Cardenas formed Queens Cove Properties, Inc. and gained title from Lucie Properties to the land encompassing the Queens Cove Unit I Plats, the land which would become Units II and III, Kings Island and what is now Treasure Cove Dunes Condominium on the West side of A1A.
In 1979, Queens Cove Properties sold a portion of the Queens Cove entrance road (the front 200 feet on A1A) as well as development rights to Queens Cove Units II and III to the Estein family (Value Property, Inc.), who developed Treasure Cove Dunes but with a permanent deeded access to the ocean for Queens Cove. The Cardenas brothers eventually regained control of Units II and III, and a consortium of German investors purchased Kings Island, which, except for a small piece of upland, they eventually sold to the State as a preserve in 1998.
Today, there are 262 platted parcels in Queens Cove, 53 of which are wetlands. Twenty-seven (27) of the wet parcels have been voluntarily deeded to Queens Cove Property Owners' Association (QCPOA) to avoid having to pay annual assessments; QCPOA foreclosed on a 28th; and the remaining 25 wet lots are in private hands. Of those wet lots owned by QCPOA, a number of them have conservation easements and will never be developed. If one looks at a satellite photo of the barrier island, the dredged canals from the 1950s in the wetland area of Queens Cove are still clearly visible.
Ocean Harbor North and Ocean Towers - Ocean Harbor North is a 5 high-rise condominium complex located between Ocean Resorts and the state owned Avalon area. It was started in 1978 with the south east most tower being the first unit opened in 1980, with Herb and Billie Winemiller (original Ocean Resorts owners) being the first occupants. It was developed by Saul Lango on land previously owned by Bryn Mawr. The Winemillers were still occupants in 2013, being in their 90s, married for 71 years, and still very vital. They actually got their start in the area in the Bryn Mawr campgrounds. They remember the dredging for creation of the Ocean Harbor North and Ocean Resorts marina, one of the finest private marinas on the island. Such dredging would probably not be permitted in modern times. The dredging's were dumped in swampy water front portions of Ocean Resorts to create more useable land. They also remember a road that ran from just north of the condominiums along the river the whole way to Round Island in Indian River County. The remnants of that road are still there and are not passable by car, but can be hiked.
Another original/original in the area was Herb Oscar Anderson, who in his younger years was known as "The Good Morning Mayor of New York", in hosting a very popular spot on radio station WABC in Ney York city. He still has an excellent voice and hosts a musical hour on the local Ocean station (97.1 FM) as a hobby. These original residents spun tails of land exchanges by barter and for speculation, night time shrimping off Little Jim Bridge (the old wooden bridge) yielding shrimp by the gallons in short time, plentiful large oysters everywhere, marijuana bails washing up on shore frequently, squatters' wooden shacks being burned down after the war, and Bryn Mawr being very active in the camp ground developments with developments at St. Augustine and Key Largo similar to that which became Ocean Resorts. They recalled a number of other "original/oringinals" including Fred Linehart who later became a Vero Arts Center benefactor.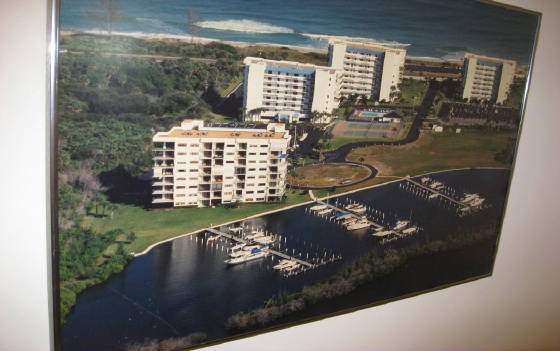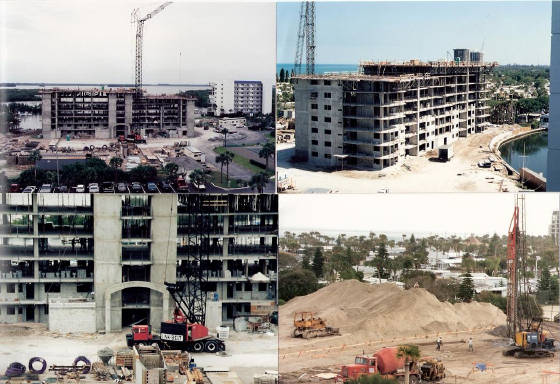 This single condominium association is a complex of 5 towers, with an excellent marina on the river, pool, tennis courts, club house, ocean beach, game/exercise building, and garages. An aerial view of Ocean Harbor North shows 4 of the towers, with the 4th one under construction, before the 5th one was added. A subsequent page shows more views of the actual construction of the 4th tower (northwest most tower) before the club house and 5th tower were started. That construction was typical of the construction of the high rises on the island.
Altamira
Aquanique
Atlantic View Beach Club
Atrium II
Atrium on the Ocean
Barclay Beach Club
Breakers Landing
Coastal Cove - Jackson Way
Galleon
Grand Isle
Harbor Cove
Heron Cay
This was started as a 23 unit one story private home development and the streets and utilities were completed before the economic downturn forced the development into receivership. Late in 2013 Heaton Companies purchased Heron Cay and are planning a community of Key West stile homes in the $400,000 to $500,000 range. This is the same company that is involved in the purchase of the old Ramada property.
Hibiscus
Marina Drive
Ocean Harbour South
Ocean Pearl
Paragon
Sands - Lakeshore
Sands - Lakeview One
Sands Lakeview - Two
Sands - Riverpoint
Sands - Riverside
Sands - Riverwalk
Sands on the Ocean
Seabreeze at Atlantic View
Seaward at Atlantic View
Tarpan Flats
This development evolved rapidly in 2014, platted with 38 lots for Mediterranean style single homes starting at $400,000. By February 2015, a fine new entrance to the development was in place with all streets, all utilities and 2 model homes. The model homes sold rather quickly, and a well attended open house February 7 and 8 provided promise of more sales.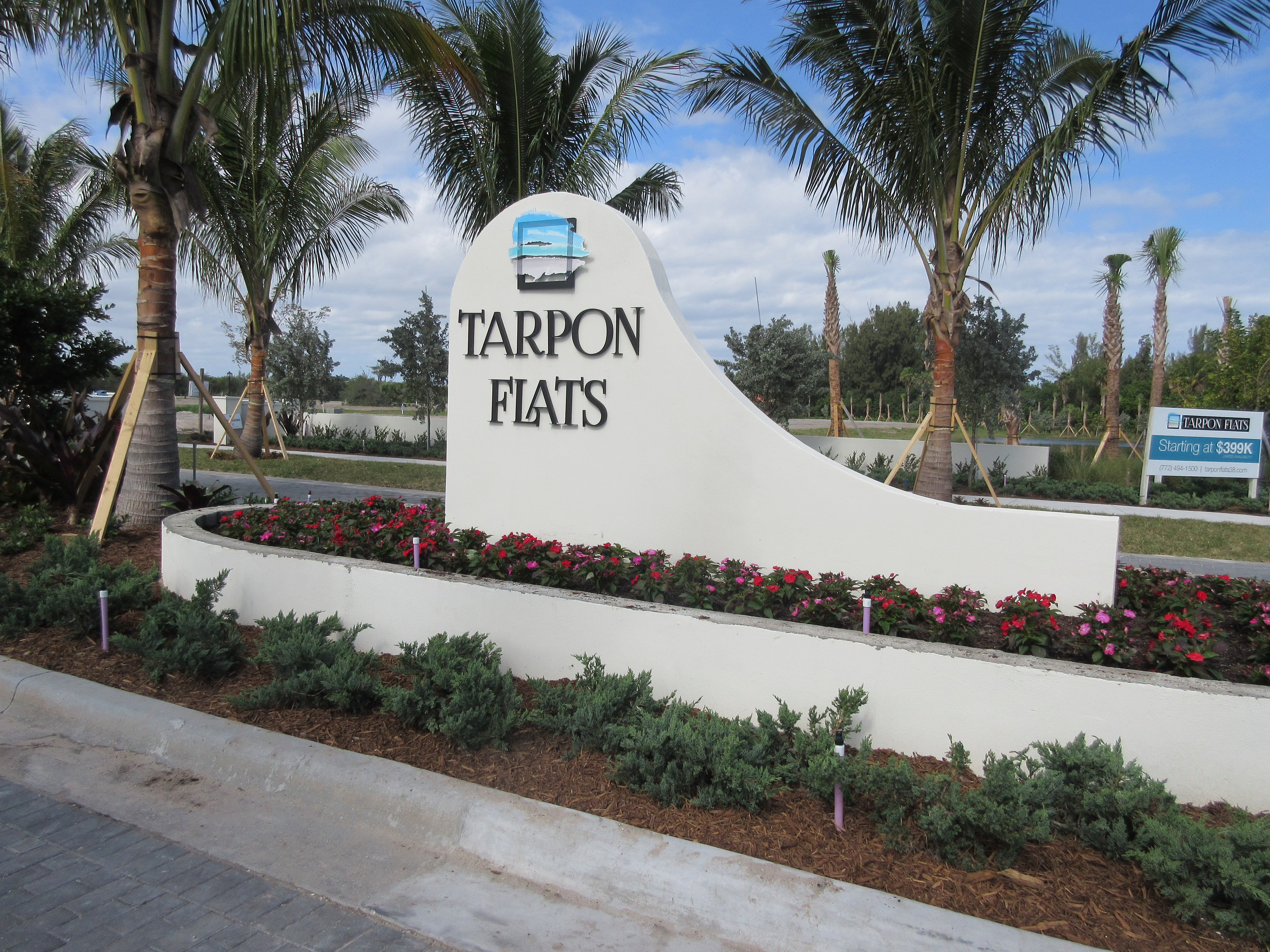 Tiara Towers North
(
www.tiaratowers.org
)
Tiara Towers South (www.tiaratowers.org)
Treasure Cove Dunes
Visions Visions was built in 1993, and first occupied in January 1994. It consists of 14 stories, 26 units on 13 floors, 2 units per floor with 2500+ square feet. Each has 3 bedrooms with 2 1/2 or 3 baths, balconies on all 3 sides and a glassed atrium adjoining the kitchen. The ground floor has a large Club Room with a full kitchen, a pool table and large TV, 2 restrooms each with a shower and sauna, a large storage room with locked cages and a state of the art Fitness Center. There are 5 individually owned cabanas next to the swimming pool and a boardwalk with gazebo leading to the ocean. Each unit has a 2 car garage with room for storage. It is gated and has a tennis court.
Waters Edge