Ocean Resorts has always been a community with lots of activities during the winter months. The chicken barbecues, spaghetti dinners, picnics, fish fries, pancake breakfasts were only a part of the activities which took place at the Pavilion. The picnic tables were old, some left over from home sites and donated, and very fragile.
It was decided that new tables should be purchased for the area and an increase in the number of tables. George Burlingham was asked if he would make the tables and the park would pay for the material. Twenty five picnic tables, some six foot long and some eight, along with serving tables were built. It was quite a production line and the tables were all lined up outside the Burlingham's home. They were made of pressure treated lumber but pine was used for the seats. The park felt that the pine would be easier on the seats of the people using them. No slivers! They have been kept in good repair, repainted every few years, thanks to John Leaman.
They have been a great asset to the park and are used by many private family picnics and parties as well. -- Another example of good will, good fun and companionship.
THE LINE UP OF PICNIC TABLES AT THE BURLINGHAM HOME.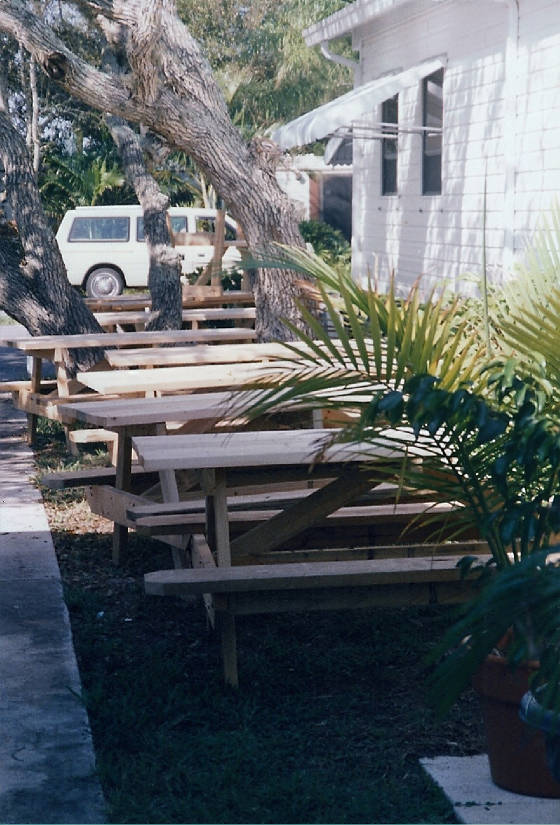 Note. Our park manager, Norton Field Jr. announced at the BOD meeting held November 18, 2010, the park would begin replacing the wooden tables that George made. At this time 20 tables have been replaced with modern materials picnic benches. The replaced benches will be offered to shareholders with a notice to appear in the November Newsletter.