Commercial Development
RED TAIL HAWK & P V MARTINS The Red Tail Hawk originated in the early 1970's and was a gourmet restaurant for lunch and dinner. Many believe it to be the first restaurant on the island, but that honor belongs to the Surf which was located near where the Atrium and Tiara Towers Condominiums were built.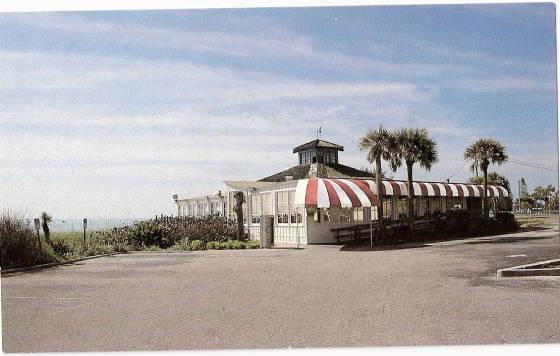 By 1985 the Red Tailed Hawk became PV Martins and remained a renowned gourmet restaurant specializing in sea food. People came from great distances to enjoy excellent dining on the ocean. Seafood buffets were most popular. Then one day in the summer of 2003, after more than 2 decades of providing fine dining, the owner showed up, told his help the restaurant was closed permanently and locked the doors. Customers who had gift certificates were left with a worthless piece of paper. The restaurant was an empty building when decimated by the twin hurricanes in 2004. By 2005 the property was sold to the Ginn Corporation for 3.6 million dollars. They envisioned building a 3 story oceanfront county club type cabana for use of buyers/owners of their luxury developments elsewhere in St. Lucie County. Although they developed architectural plans for their luxury cabana they could not overcome problems to gain the necessary approvals for there were zoning issues, height issues, and set back (both ocean and roadway) issues as well as neighborhood opposition. The NBA was actively involved in championing North Beach interests while Ginn Corporation was pursuing variances. As the Ginn Corporation hit hard times with the falling economy they sold the property to Arnold Jason in 2009 for $860,000, or less than a quarter of what they had paid for it four years earlier. Mr. Jason first pursued the development of a small luxurious RV park, but this hit serious variance needs and was abandoned in favor of for 8 individual residential lots. There were still variance issues so he moved to selling off sections to be ocean front lots. Ocean Harbor North purchased a portion of the land east of their condominium, 1.6 acres of the original 4.7 or approximately 3 of the previously platted 8 lots, in 2011 to assure their unobstructed ocean view and access. The balance remained available in 2013.
MELLON PATCH INN Arthur and Andre Mellon had this Bed & Breakfast located at 3601 A1A built in 1994. It is a 2 story building with owners living on one side and the other side having the guest rooms on both floors. The property extends to the river where guests can launch canoes, fish from the dock or relax in a hammock. They may also enjoy a Jacuzzi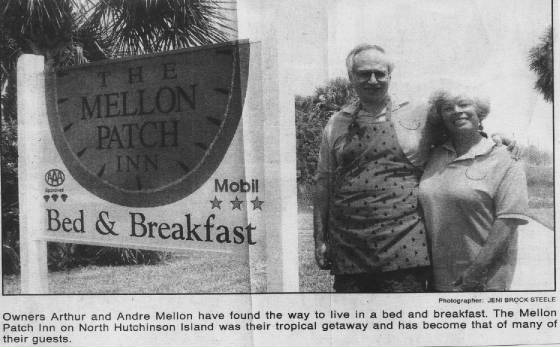 While the Mellon name and its Bed and Breakfast orientation have been retained, it has passed through several owners and neighborhood issues regarding its operation and zoning. In July 2012 Rich and Cathy Singer took over the Bed and Breakfast from Cathy Thompson who had operated it for several years. They continue to host special events and catered functions. Like most properties on the island, this property suffered a major decline in value between 2006 and 2011, as evidenced by sales records showing a drop of more than 50%.
HOLLIDAY INN, RAMADA, & RADDISON The Holiday Oceanside Inn was in full operation by spring of 1975.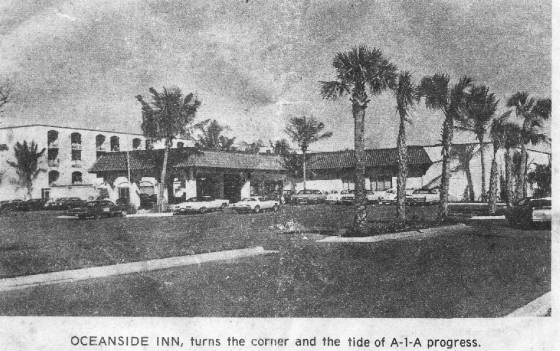 Although it passed through several ownership changes and renovations, the majority of the original structure was the backbone of subsequent operations. It was operated as Holiday Oceanside until 1983 when it became the Ramada Inn Resort. The Ramada Inn ceased operations in 1995 and it remained vacant until purchased by Dan Mar of Texas Inc. in August 1996 for $3.6 million with renovation plans of $4.5 million. The renovations were extensive and created a modern 3 star Radisson motel with 150 guest rooms, 2 fine restaurants, 10,000 square feet of meeting space, and a grand ballroom that could accommodate 300 for dinner. This was a thriving operation that hosted many local and national gatherings. Unfortunately hurricanes Frances and Jeanne inflicted major damage in the fall of 2004 and it was totally demolished in the spring of 2005 with the area subsequently platted for the Meridian condominium development of 3 high rise structures containing 104 units. That necessitated overcoming some zoning hurdles and then the economic downturn set in. The site remained an 11 acre grass and weed patch for sale in 2013.
By 2014 Heaton Companies was working on plans for the development of the Orchid Beach Resorts and had signed a contract for the purchase of the property. They are planning for three 12 story high rises containing 400 units of hotel rooms and condominiums. There is much to be accomplished in the approval channels before the sale is consummated and construction starts.
SHARKY'S - This restaurant has been in existence several decades as an eating place for a wide variety of hot and cold sandwiches, pizza, salads and drinks. It is frequented by local residents, daily workers, surfers, and beach combers. While it has undergone several changes in ownership and management the popular menu has changed little over the years.
CUMBERLAND FARMS - This corner gas station has existed since the original platting of Coral Cove Beach in the 1950's. In addition to gasoline and some automotive supplies it carries a basic supply of groceries, drinks, snacks, and sandwiches. It has withstood all hurricanes and other island developments.
CORAL COVE STRIP MALL - This commercial property evolved from the Coral Cove platting of 1951. It contained a variety of business (restaurants, quick stop, real estate office, etc.) over time but received major damage in the 2004 hurricanes and was set aside for redevelopment. The following picture shows the strip mall after the hurricane cleanup.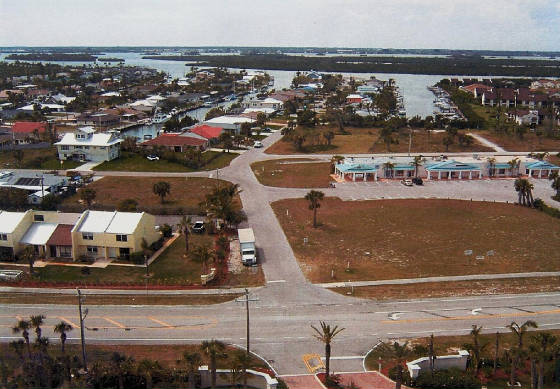 New owners did much planning for a viable mixed development of the former strip mall territory to include both condominium and commercial development. After much interaction with county officials and the NBA, an approved plan for the Grande Beach evolved as pictured below. However, the recession set in and by 2013 only enough initial work was done to keep their permitting alive.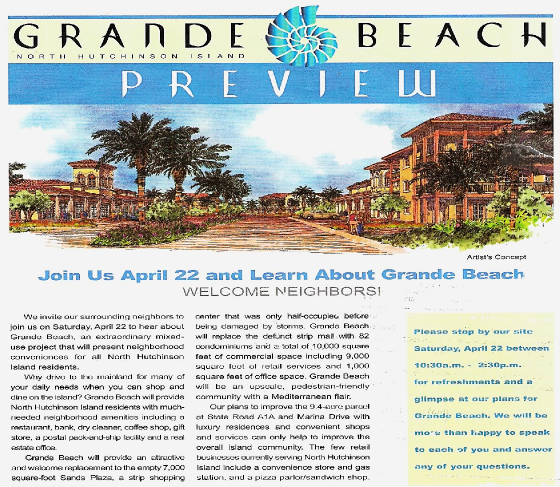 In 2013 this development met bank foreclosure.