THE WAY WE WERE
By Larry Nelson.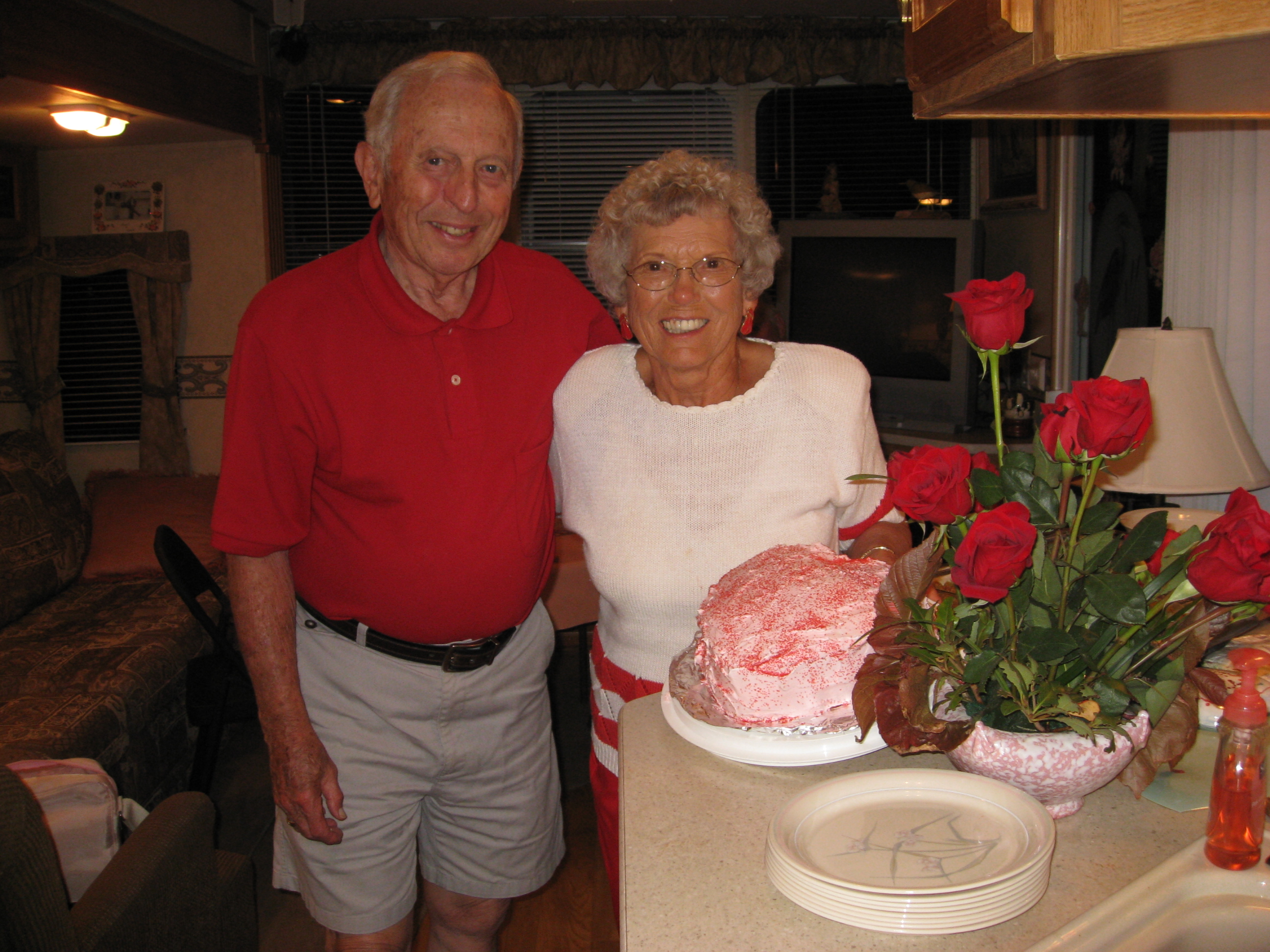 (Photo of Larry &
Wilma Nelson (aka; Barney) to the left)
These are my recollections of our discovery and life in Paradise -aka Ocean Resorts.
Prior to my retirement, Barney and I decided to look into a place where we could spend our retirement years. We did a very extensive search taking advantage of offers of three days and two night stays in condos in places like Keowee Key, South Carolina; Hilton Head, South Carolina; San Destin, Florida; Fairfield Glade, Tennessee; Sanibel Island, Florida; Mesa and Sedona, Arizona. After all of this we were undecided. I asked Dan and Lil Kyser where they spent their winters. They told me about Ocean Resorts. I immediately called and rented a unit for January, 1986
This was the beginning of a new life. We liked it here so much we rented another place for February. On Galley Way, where we first rented, there was a tall palm tree stump which had a hole in it that was inhabited by a hoot owl. We all looked forward to hearing him at night.
Since our palms were covered with fruit in the spring, we were inundated with robins eating those tasty morsels. Hundreds would come at a time .Their droppings and the purple berries from the palm trees caused some problems on our cars, homes and cement. I wonder where the robins went?
The tennis courts were red and green cement with cracks. The nets were marginal and the fences needed painting. We had a lot of fun playing, but with a group like this you knew it was just a matter of time until they would be improved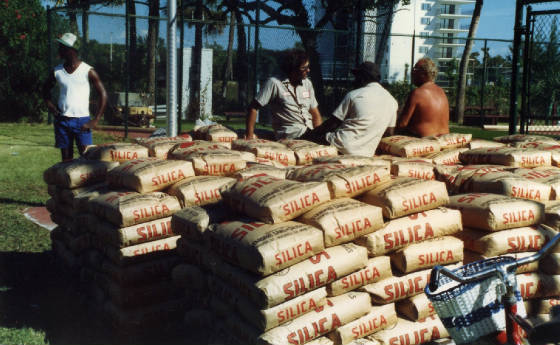 (Photo) Workers getting ready to build Omni Courts
Under the direction of Grant and Dottie, we made trips to other tennis complexes to see what they had. These trips resulted in the Omni courts that we now have. We organized into a tennis group into a smooth working committee. Continued improvement has brought us to where we are today.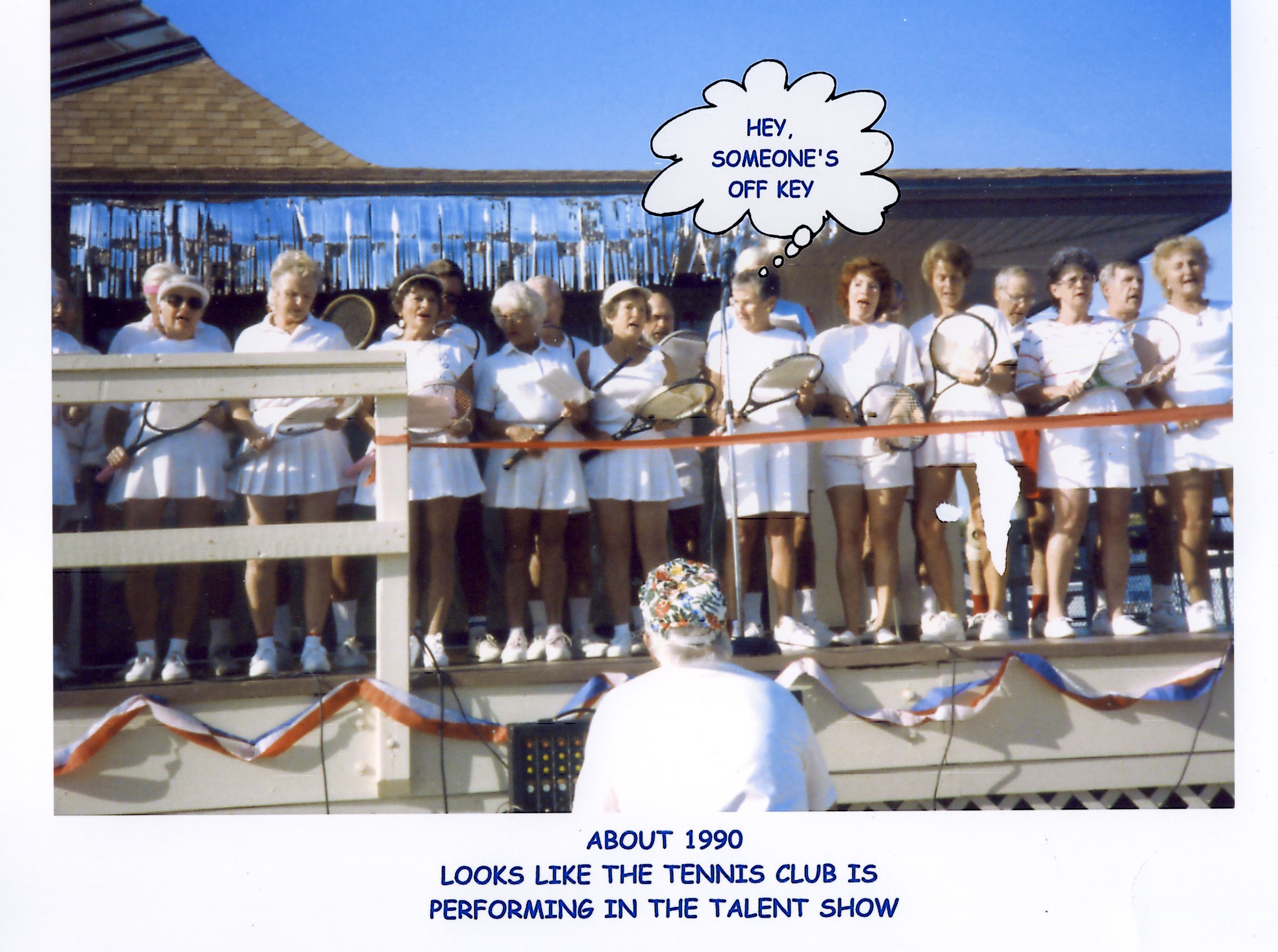 An annual event in our park in the late 1980s and early 1990s was a talent show during "I Love Ocean Resorts Week. This was put on by our various committees. It was more like a stage production. It included choirs singing, dancing and skits. It had a master of ceremonies, a comedian, and individual performances It required much effort to coordinate and a strong leader. Costumes were also a part of the show. After a number of years, we ran out of new talent and strong leaders and the will to spend time doing the planning.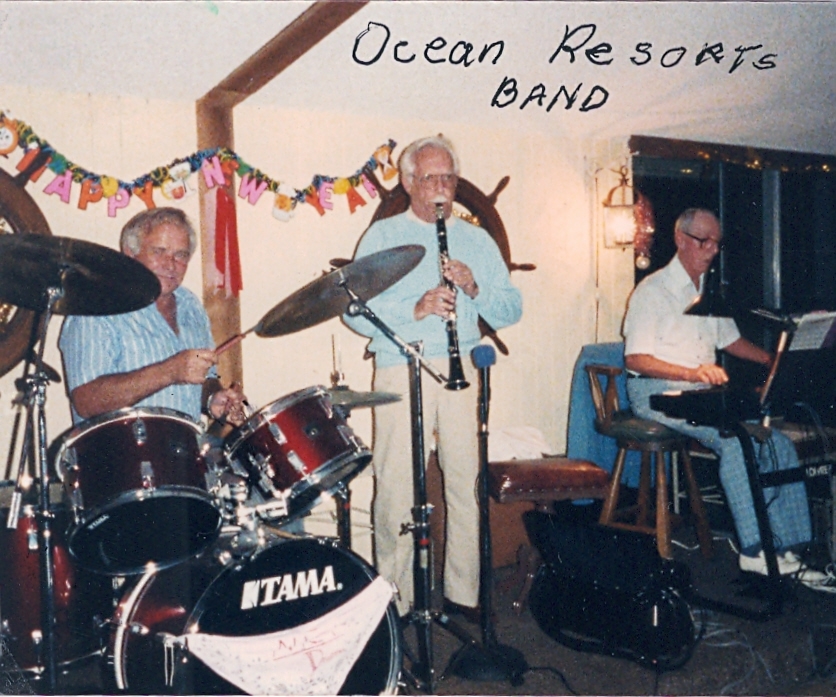 Another fun thing was our Ocean Resorts Band. . It played for dances and special events. -- Wolf Flechner was on the drums, Dan Kyser on the clarinet and Hubert on the piano. We also had a saxophone player, and occasionally a guitar and coronet player. It was nice for us, but required much dedication on the part of the band members. People got old and passed away as did our dance band.
During those years, we had a resident cartoonist.. His name was Roger Wolcott and his wife was Ginny. He would draw very professional, humorous pictures of situations that he saw in the park. He was very talented. Everyone liked his drawings. The example below is a cartoon spoofing Larry Nelson who had just won a gold medal at the "Good Life Games" which was like a senior Olympics that use to be held annually in Vero Beach.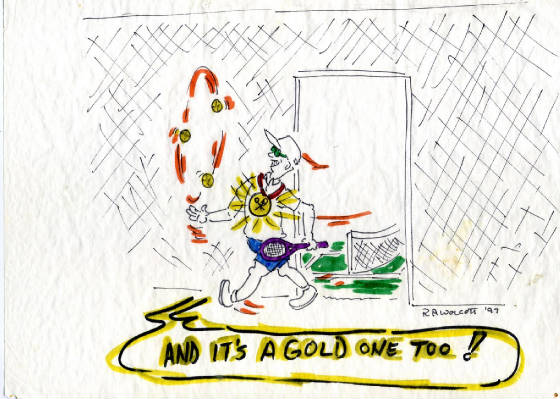 The early days of Ocean Resorts was centered on an office/store where our present office is located. The store had groceries including milk, eggs, bread, canned goods, and snacks. It also included gifts for visitors to buy. We shall always remember our grandson's purchase there. When going into town one day, he asked what Barney was doing when she "huffed" on her glasses. She told him she was cleaning them. When we returned, he promptly went to the store and bought some sun glasses to try it him self. He loves hearing that story.
The store included our mail room where the incoming mail was sorted and put into the slots we now have for intra- park mail. It was sorted by an employee who also was charged with renting empty sites to people requesting them. There was a large bulletin board displaying the various prices of lots-inner and ocean/river. It was the center for meeting and discussion and a coffee pot was always on. (See Lois Kozlowski's poem entitled "The Store" located in the Appendix E5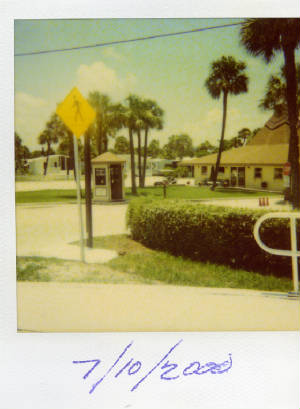 We had a guard house at the entrance to check vehicles coming and going. A guard manned the gate. That got too expensive. The park tried Video Cameras for a couple years, but that did not work out well because the moist salt air that covered the lens. (See photo left that shows the guard shack located in front of the office/store.)
We went to the ocean by crossing the Al A and walking by a large Australian Pine which succumbed to the freeze in 1989. Later we learned it was on PV Martin's property. We purchased a parcel of property from them to build our present boardwalk. A big improvement in recent years was the boardwalk. As with most of our projects, it was accomplished by our own people using their talents and muscle. This included doing a landscape plan for green and flowering plants and for placing an old anchor, found on our premises, in a suitable setting..
In days gone by we sold propane gas at the second island near the entrance. Also we had a large wood pelican perched high up in a palm tree at the first island as you entered the park highlighted by a spotlight at night.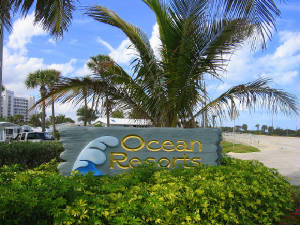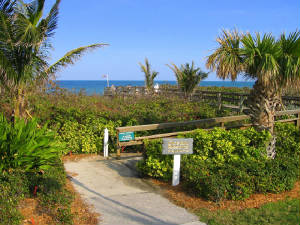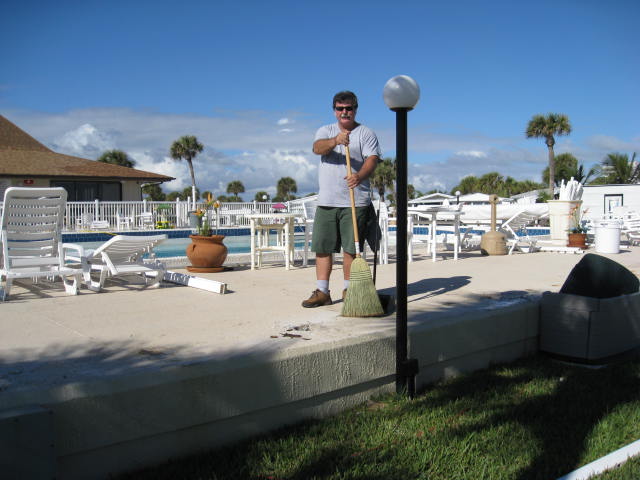 One of the most subtle changes that has occurred in our park is the general overall appearance. Our roads have been improved from the gravel covering they once had to a more dressed hard surface appearance. Our fences are white non- rust plastic instead of a rusty wire and bush covered wall they once had. This included a fence around our pool, -- a prime activity point of our park.
The Beautification Committee has worked diligently to plant colorful plants and palm trees, and growing things that fit the surroundings. The homes are upgraded to a more permanent look as well as being better maintained. It takes the park out of the campground category. All buildings are kept painted appropriately. The look is one of people who care. The dual hurricanes in 2004 set us back a little, but we are continuing our move toward a more attractive place to live
Our CO-OP committees approach has allowed us to save money and to accomplish much and have fun.