Our Boardwalk was "Cained"
By John Leaman
edited by Carolyn Leaman
Frances and Jeannie did a number on the beaches and our boardwalk in 2004. Three to four feet of sand went elsewhere. The steps and their supports totally disappeared and the deck leading to them was twisted into a vertical position rather than being horizontal. It sure looked strange to see the big support posts jetting horizontally into the air. The beach was inaccessible!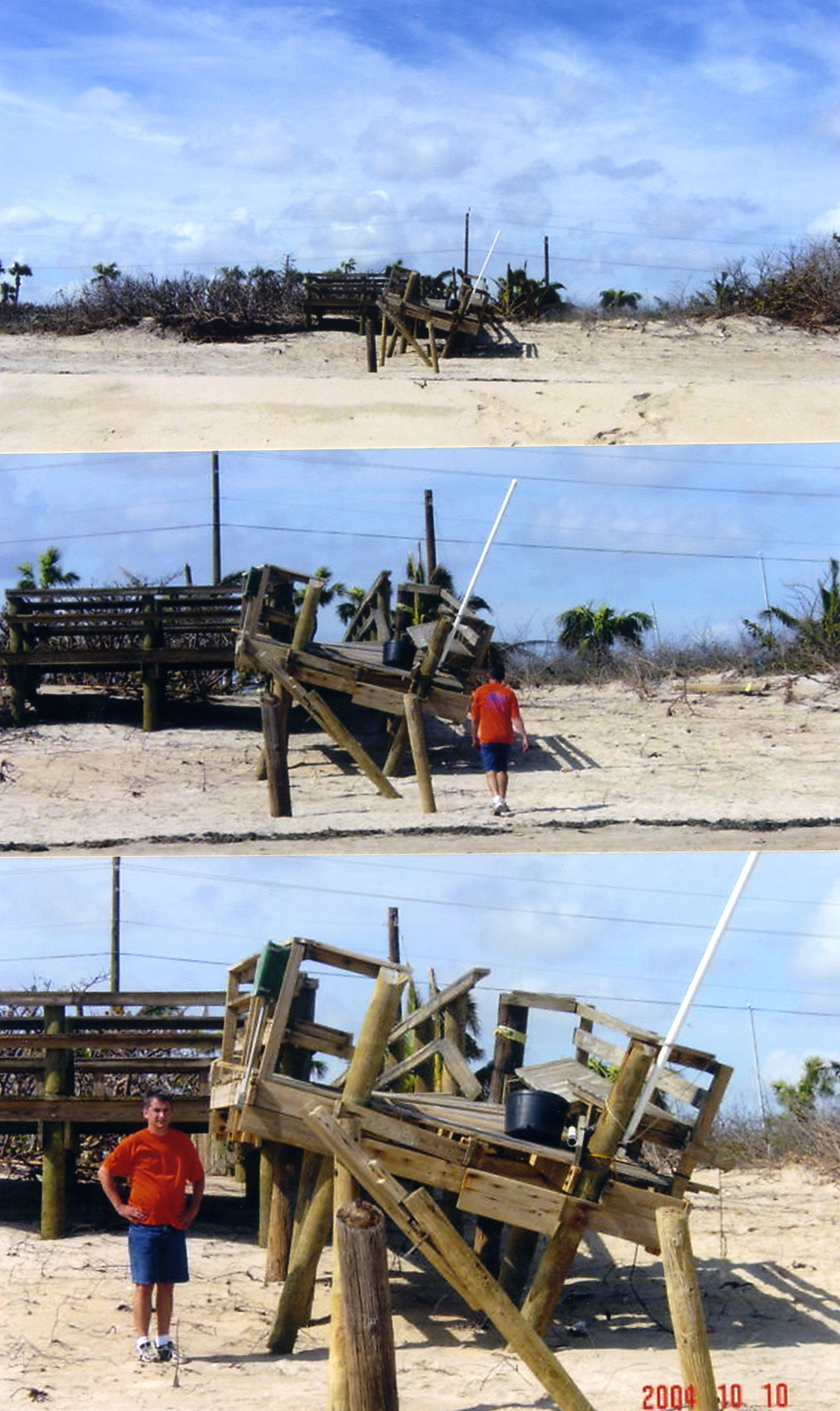 Since it would take some time to rebuild the boardwalk for beach access, the first order of business was to create a way for residents to get to the beach. Alex Rabitaille took care of that matter by cutting through a section of the boardwalk's side railing, back where the boardwalk was still intact, and installing temporary steps to get down to the sand.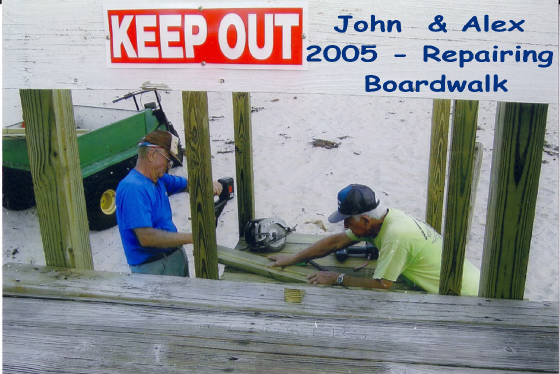 After that, Alex and John Leaman set about the arduous task of untwisting the remains of the ocean end of the boardwalk, rebuilding it for strength and building all new steps and their supporting structure. They used chains, jacks, come-a-longs and Ocean Resorts' 8 wheel-drive John Deere work cart (which John fondly called the Beast) to straighten things out. The new sand level was now below the bottoms of the main supporting post level, so concrete blocks were used to create a solid foundation. Each morning Alex and John would set out from maintenance with a new load of cement blocks, lumber, fasteners, and tools for the morning's work effort. They had to wind through some of the debris remnants of PV Martins to get the Beast and its load to the beach work area. On their return trips they often returned debris from the beach. Each day they would figure out what was needed for the next increment of restoration and Daren Meyers would acquire needed items on his way to work the next day. His support was outstanding. After several weeks the boardwalk and steps were restored to the pre-hurricane condition except for the appearance of much new lumber and being much stronger. Several weeks later, John repaired the low voltage lighting system because the eastern end of the system was torn up and sections disappearing in the hurricanes.
Now, four years later, it is hard to tell that the hurricanes did much to the boardwalk. The wood has aged and nature has restored the sand level so that the lower 3 steps are again under the sand. None-the-less, maintenance must do constant work on the boardwalk because it is a very harsh environment. Let's just hope that the rebuilding job is never needed again.
Note Sand encroachment on post. Photo below of John Leaman and Joe Valchar taken 2009.
John is pointing to how high the post was just 4 years earlier. This can be easily seen when looking at Photo on right taken in 2005

Photo right by Bob Roeckner

Betty Roeckner on finished boardwalk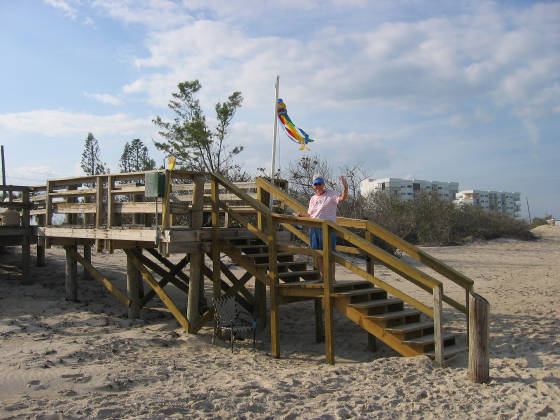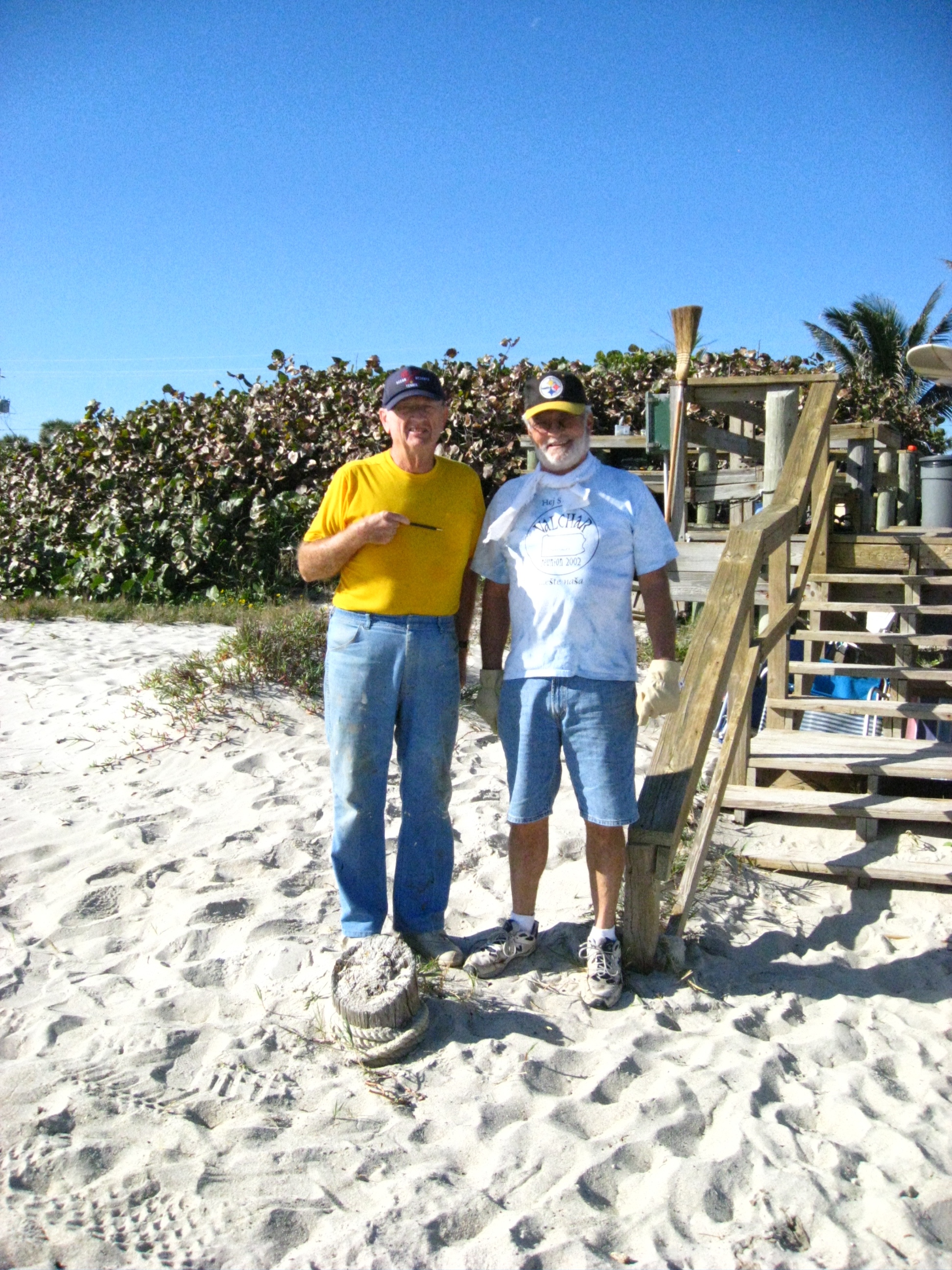 While the integrity of the benches on the eastern end of the boardwalk was restored after the hurricanes, their seats embellished with carved names of residents, were againg and splintering. In 2009 Joe Valchar and John Leaman rebuilt the benches using non-splintering manufactured planking. They also repaired the railing along the entire boardwalk