Development of State/County Services
FIRE & RESCUE
In the early days, fire and rescue support for the island came from the old central station located at Avenue D and 7th Street on the mainland. In 1983 the service was shifted to the newly established Station 15 established at Avenue D and 8th Street. However in 1985 North Beach gained its own Fire and Rescue when Station 9 was created in the middle of the island and dedicated to Chief Donald B. Moore who had many years of service to North Beach and contributed greatly to its history. In 2013 the station was under the long standing leadership of Captain Carl Meltzer, with Lt. Matt Samuel his assistant. The Captain was at the station for over a decade, with the Lieutenant getting close to 2 decades. Both are well versed in North Beach development with Matt having a wealth of information.
Station 9 is in operation 24/7 and staffed with no less than 4 licensed paramedics or Emergency Medical Technicians who also double as firemen. There is always at least one paramedic on duty. The station houses a fire engine, which is both a pumper and a 75 foot aerial ladder, and an advanced life support rescue vehicle. It also has a 4 wheel drive vehicle that pulls a medical rescue trailer for beach calls. If needed, Station 9 is backed up by a specially trained and equipped high aerial rescue team with over 100 foot capabilities that can be called from the mainland if need. Station 9 is normally not called to back up a mainland station because they want to maintain a unit on the island to avoid train and/or drawbridge delays. The units are equipped to call the drawbridge operator to avoid or minimize delays there. Also, helicopter medevac can be called in if needed. Backup to Unit 9 is usually provided by either Station 4 (Airport) or Station 2 (South Beach) and there is also a cooperative agreement with 2 Indian River County units located on A1A on the barrier island. Fortunately it has never been necessary to call them. Station 9 receives nearly one emergency call per day on the average with 90% being for rescue or life support services. Of these, 75% require transport to medical facilities. The following pictures depict their home station.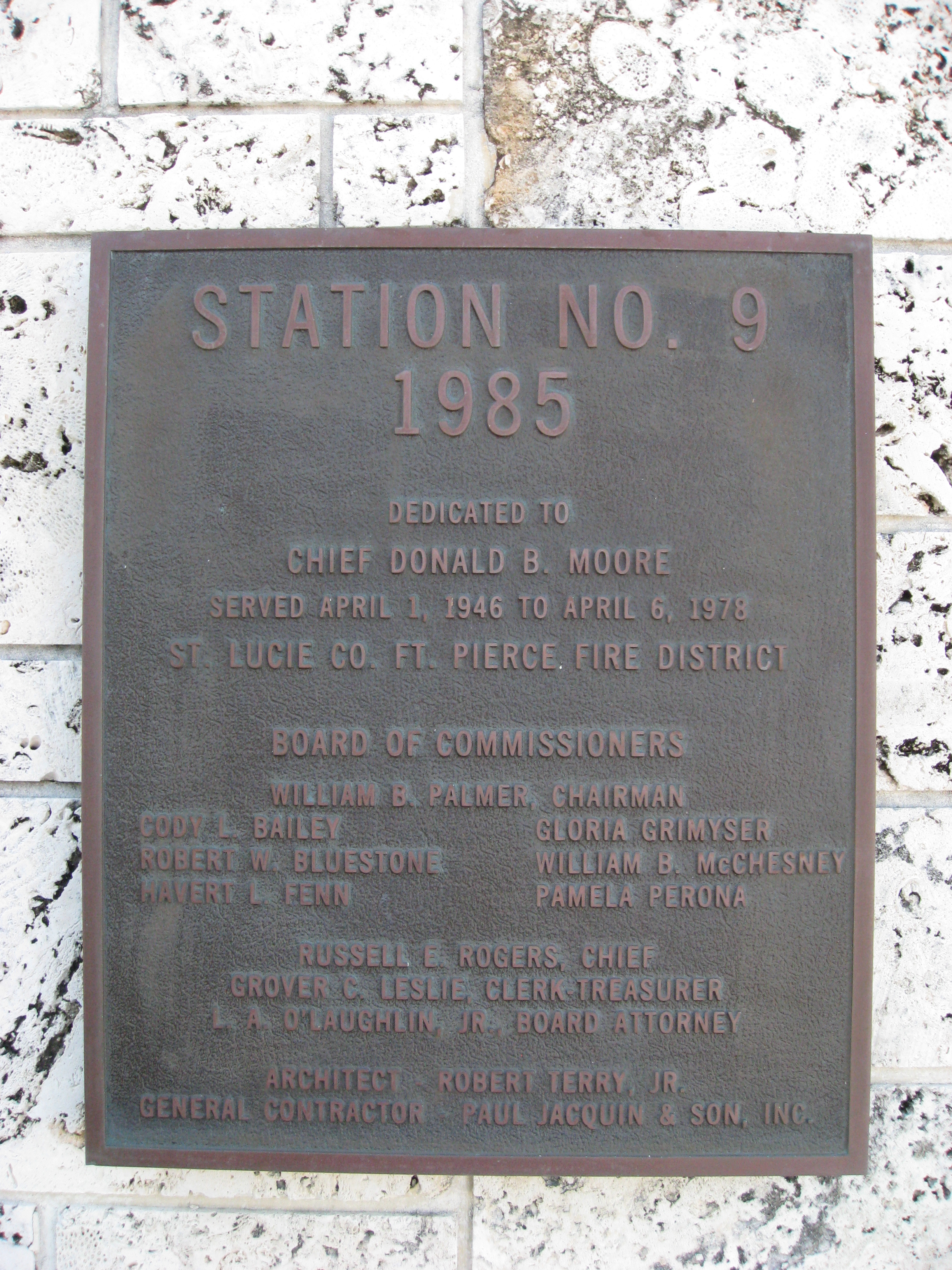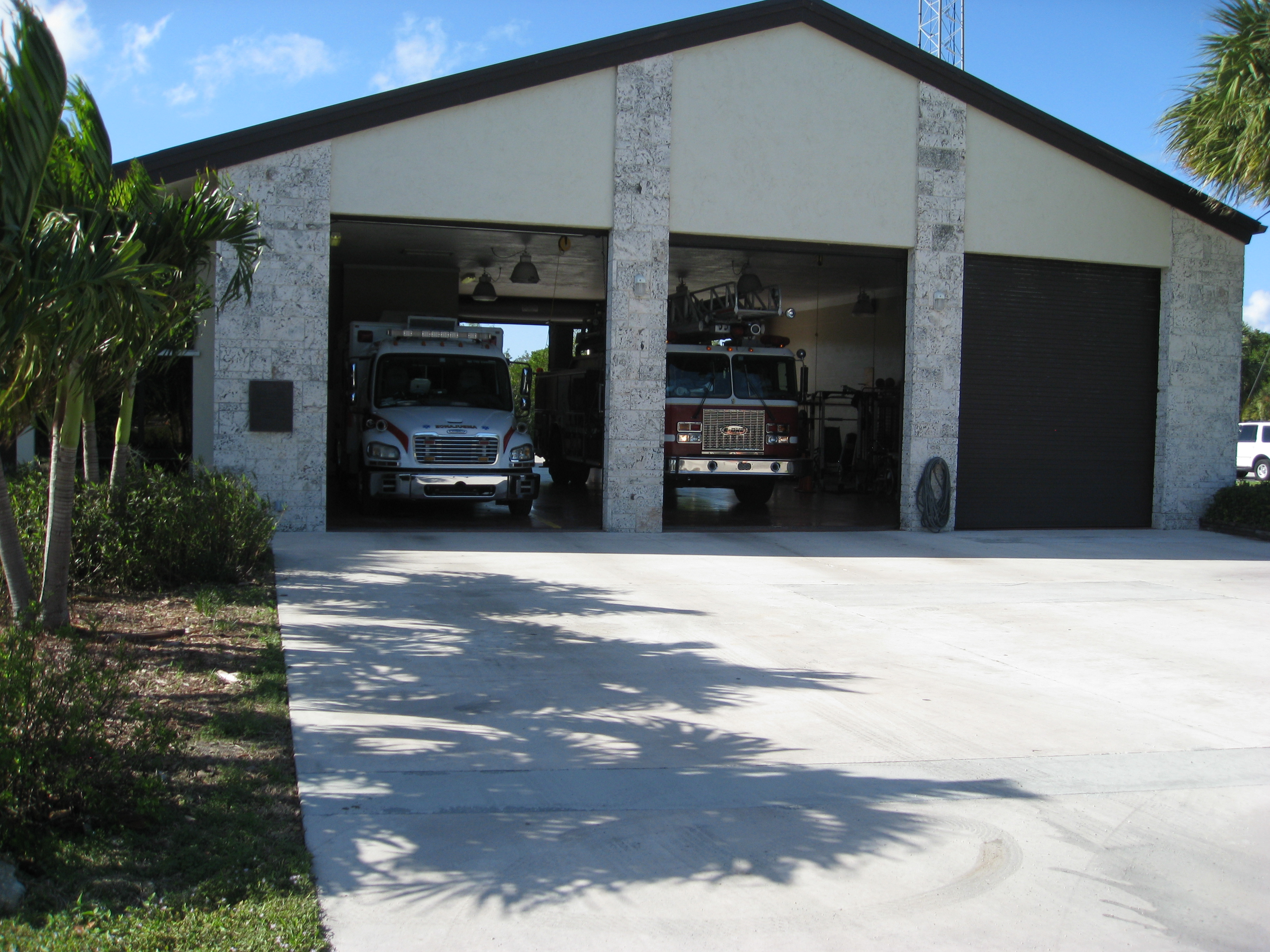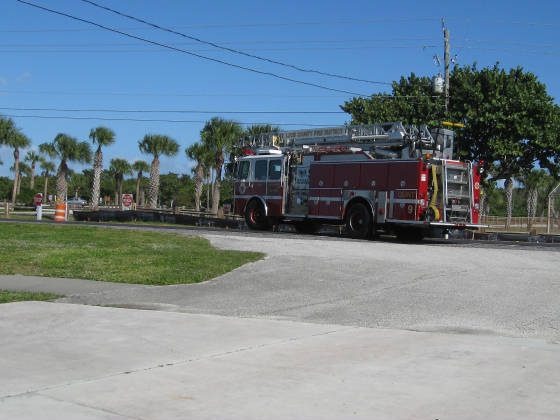 ROADWAYS
Development of A1A. An early platting of a proposed North Beach Subdivision showed that in 1941 it was intended for the north/south portion of what we know as A1A on North Beach to be called Atlantic Beach Boulevard. This showed up later as Atlantic Avenue. The east/west part of A1A was named Shorewinds Drive in early platting's. What we know as A1A was carried as State Route 1 by the State Road Department (SRD) which became the Florida Department of Transportation (FDOT). In 1947 they renumbered it A1A to avoid confusion with U.S. 1. It was paved with gravel in 1951 and then widened to 24 feet and paved with asphalt in 1969. Bonita Isle development was planned along the road in 1947 but never materialized. The residential district of Fort Pierce Shores was first planned in 1949 and resulted in some home development in the 1950's. A1A was resurfaced in 1997 with a blacktop that included particles from tire shredding. That initially provided a very smooth and quiet surface, but in time some rubber particles worked their way out, leaving a rough surface. In 2012/2013 the roadway was again resurfaced. This included some upgraded bike lanes, 5 new demand operated pedestrian crossing lights, new sidewalks extending south from the northern end of Pepper Park, adding several turn lanes, and landscape upgrades. Based on an off-season traffic count the state refused to honor a petition to include a left turn lane at the busiest left turn location on the north/south leg of A1A. They are adding lanes at less busy locations and are even paving two lanes into the old P.V. Martin property that is vacant land with no vehicle entry or development likely in the foreseeable future or ever!
The resurfacing was completed by the fall of 2013 and 5 pedestrian operated traffic lights were added for the safety of people crossing A1A. These were expensive additions and are causing safety concerns because both pedestrians and drivers were not accustomed to their unusual manner of operating.
SAFETY AND SECURITY
The St. Lucie County Sheriff has been responsible for all safety and security services to North Hutchinson Island since creation of the current County authority. Initially when there were few residents or attractions on the island, the Sheriff support was provided on call with few routine patrols. However, as more residents and attractions demanded more support, so did the number of patrols. They also started the Civilian Observation Patrol to give them more eyes and ears on the island. Finally, by 2008 they went to full time support with a Sheriff stationed on the island 24/7 except when an emergency elsewhere may cause a temporary departure. The most serious calls they have received involved two different fatalities on A1A. The most frequent occurrences for sheriff investigations are theft involving both vehicles and residences. They do make a number of vehicle stops for traffic violations. A representative of the Sheriff frequently attends the NBA meetings to provide updates on their recent activity on the island.
CIVILIAN OBSERVATION PATROL (C.O.P.)
C.O.P. operation on the island, in support of the County Sheriff, was started in 2000 by Ray Breur, a retired policeman and resident of Ocean Resorts. The COP works as eyes and ears reporting abnormal sightings to the sheriff via radio or cell phone from a patrol car provided by the Sheriff. Initial operation had 13 trained people, all residents of Ocean Resorts with the operation stationed in Ocean Resorts. The Sheriff encouraged patrolling outside Ocean Resorts but that was not mandatory and many of the COP personnel patrolled only within Ocean Resorts. Also there was no COP entry into gated communities other than the home base of Ocean Resorts. When Ray Breur moved off the island John Silberman took over the COP leadership. At its peak there were 19 COP personnel, but interest and support declined over the years as many of the original staff aged or moved on until 2009, the Sheriff had the patrol car moved to the County Fire and Rescue station and the NBA assumed responsibility for the operation. While COP members have no law enforcement authority or responsibility they do have very important duties because they:
(1) Observe and report suspicious persons, objects, and occurrences to 9-1-1.
(2) At owners request perform checks on unoccupied residences.
(3) Check on elderly and homebound residents as requested.
(4) Assist the St. Lucie County Sheriff's Office Crime Prevention Unit at different events.
(5) Identify potential neighborhood hazards.
The COP was given entry to the gated communities and assumed a vital role of verifying that gated community entry codes and building security codes were maintained accurate and current so that the sheriff, rescue and fire personnel would not encounter delays when their response was needed. Craig Mundt and Ron Knaggs (pictured with the patrol car below) were instrumental in revitalizing the COP. Ron was in charge of the operation and the volunteer force had grown to 15 by 2013.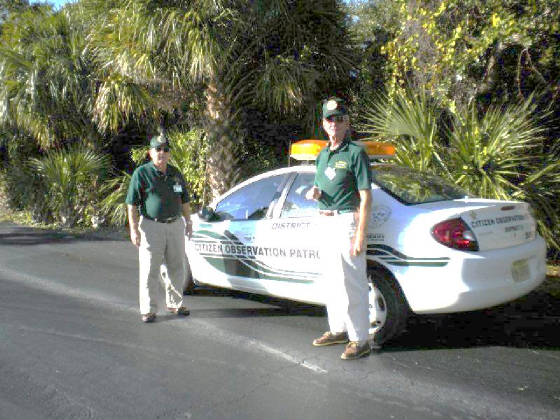 WATER & SEWAGE
Providing both palatable water and proper sewage disposition was a challenge from the outset of North Beach development. December 16, 1953 the North Beachwater Company was chartered to develop and provide the water services needed on the southern portion of the island, principally the Coral Cove development. The first water and sewage treatment on the northern part of the island was the Bryn Mawr facility established in 1972, initially to service its campground. By 1994 it had grown to processing over 100,000 gallons per day and, at times, providing disagreeable odors for its neighbors. The Sands Wastewater Treatment Plant was processing twice that amount daily and the new North Hutchinson Island Regional Treatment Plant was being planned to replace all other North Beach facilities. From these beginnings there had been a trail of growing problems/challenges around the water and sewage services until finally all services and responsibilities were consolidate into the St. Lucie County Utilities Services in 1993, operating in a new facility costing over 2 million dollars on property purchased for $186,800 by the County June 18, 1992. Even the new plant had odor issues in its early years and in April 1998 the NBA created an oversight committee to address the wastewater treatment problems affecting the North Beach residents. There had been rate issues, capacity issues, political struggles, notices of health issues, etc. The county consolidated sewage treatment from 17 locations into a single new plant and piped palatable water to the island from its inland facilities. The new plant had a capacity of 500,000 gallons per day wastewater treatment and was averaging 400,000 gallons per day in 2012 although at a few peak times did reach 500,000. A final upgrade of the North Beach plant is planned for 2015 that will increase its capacity to 850,000 gallons per day, well beyond the projected needs of the maximum build-out of the island in accord with existing zoning. Following is a step by step accounting for the evolution of water and waste water processing for the island:
History facts of the County owned utilities system on North Hutchinson Island (provided by Ray Murankus of County Utilities).
1991 St Lucie County Utilities District (SLCUD) was formed as a result of General Development Corporation abandoning the operation and maintenance of the water, wastewater and propane distribution systems in the River Park subdivision in St Lucie County. SLCUD service area included all the unincorporated lands outside of the Fort Pierce City limits.
May 19th, 1992 St Lucie County purchased a water distribution system and wastewater collection system form North Hutchinson Island Services (Dodi Properties).
November 18th, 1992 St Lucie County purchased Queens Cove and Barclay Beach Club Developer Agreements to add to the service area on North Hutchinson Island.
St Lucie County obtained bonds to construct the North Hutchinson Island Wastewater/Reuse treatment plant which was online January 1996.
St Lucie County signed a Bulk Water Agreement with FPUA to service the North County/North Hutchinson Island service area February 2004 which included but not limited to Portofino Shores, Waterstone, Seminoles, Creekside, Oakland Lake Estates, Coconut Cove, Indian River Estates and all of North Hutchinson Island.