These Photos have been provided by Jean Lockerby, They were taken in 1980.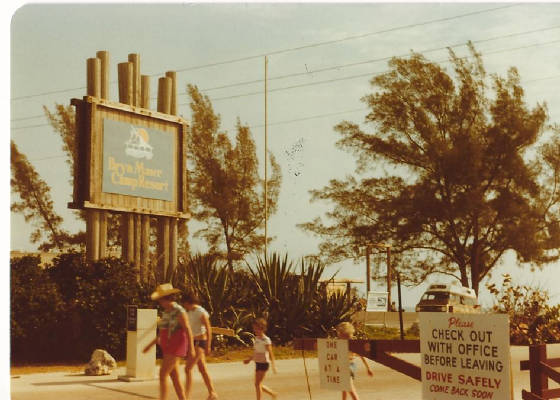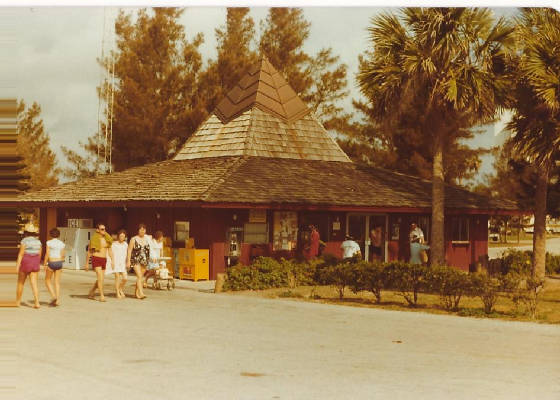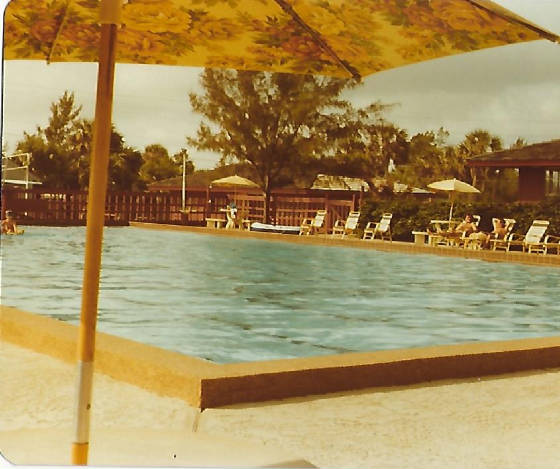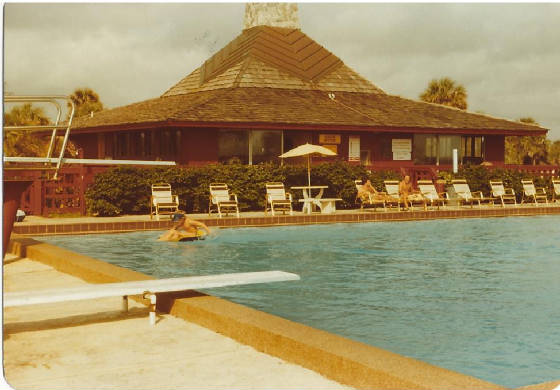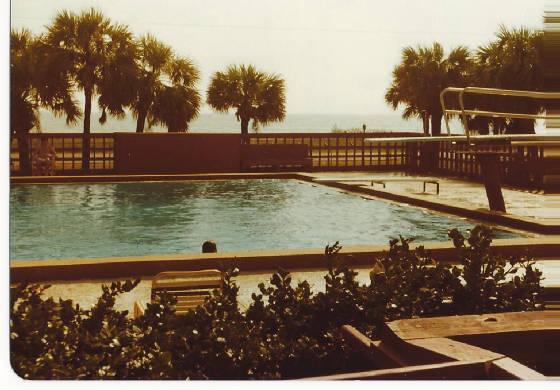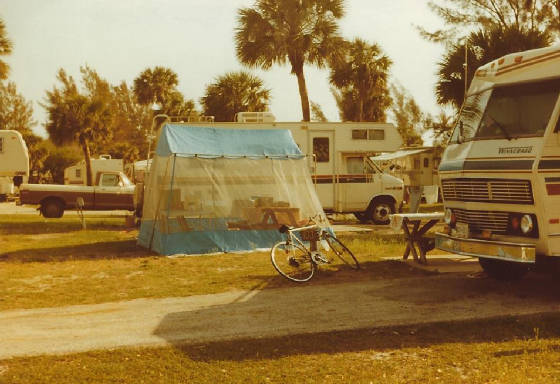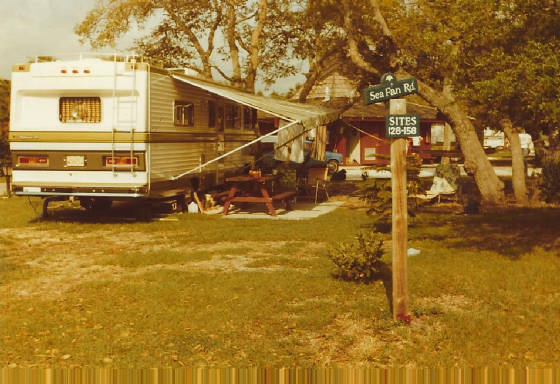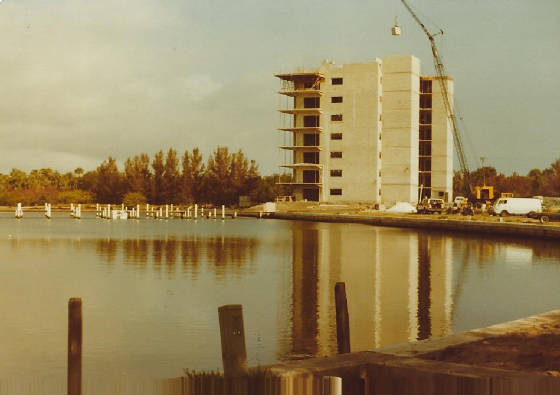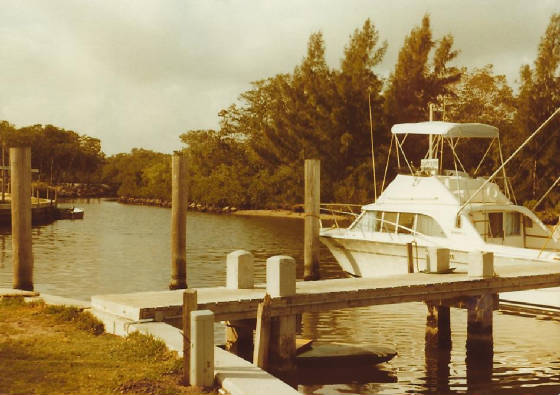 Fish Kills
By John Leaman
Periodic events cause major reductions in fish population of the Indian River Lagoon. Water conditions like changes in salinity, as caused by a major discharge from Lake Okeechobee or chemical issues such as fertilizer run off, cause an unhealthy situation and may result in sick fish and a gradual attrition, but it is not an immediate catastrophic event. Also "red tide" occurs occasionally and causes some fish and invertebrate kills. This also causes temporary warnings to cease consumption for food purposes, but it too is not as catastrophic as a freeze or several consecutive days of near freezing temperatures. On Christmas eve 1989 there was a very real freeze that killed not only thousands of fish, but also many palm trees and great areas of the mangroves that serve as the spawning grounds for many varieties of fish. It took years for the Lagoon to recover from the freeze and you can still see dead remnants of some of the mangrove kills. In 2010 there were several consecutive days of near freezing temperatures that resulted in a major fish kill as illustrated in the insert below. Mullet and snook, including some huge ones, were the most affected and they covered the top of the water for hundreds of yards. The floating mess moved around carrying the decaying fish odor with it. It took several weeks for the odorous mess to disappear and it takes years for the population to rebound.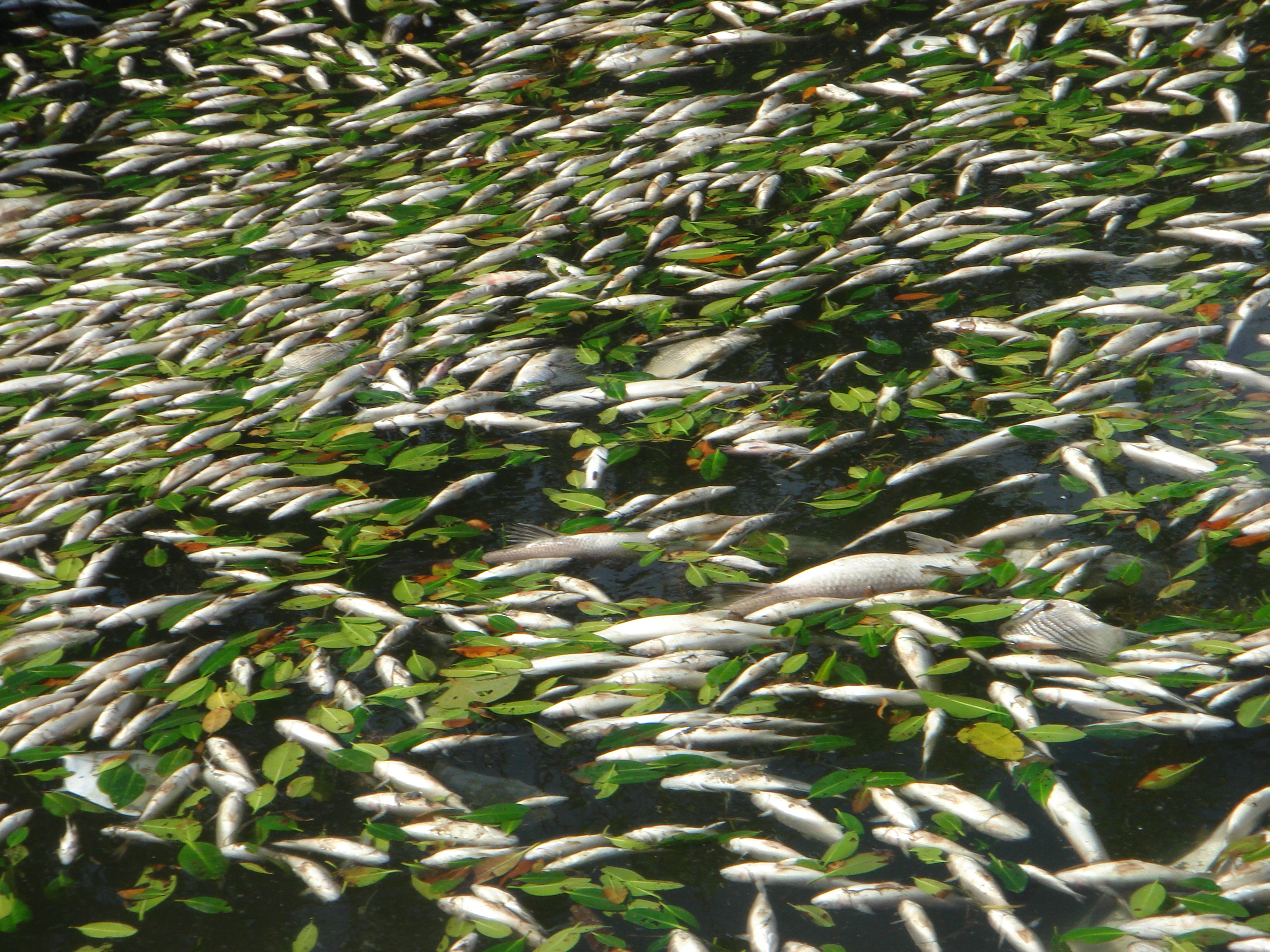 Photo by Myrtis Massatt
Betty Howe, long time Ocean Resorts resident decided to give up her home in 2014. Before leaving, she donated a few photos. Most were taken at Senior Games during the 90's held for swimmers. The First Two were taken during the 90's when special equipment was brought to the beach in order to clean out residue left over from WWII practice area. It was nothing during that time to find unexploded bombs and other dangerous weapons in the water.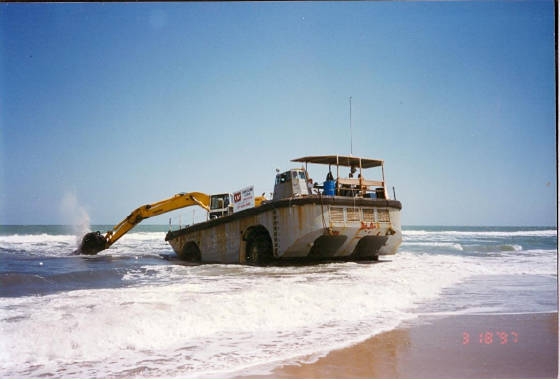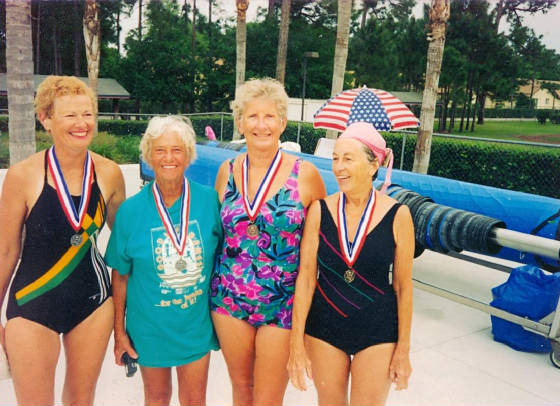 1994 Gold Medal Team
l/r LoisDeFillipo Butterfly Stroke, Polly Mansell Breast Stroke, Betty Howe Back Stroke, Phyllis Thompson Crawl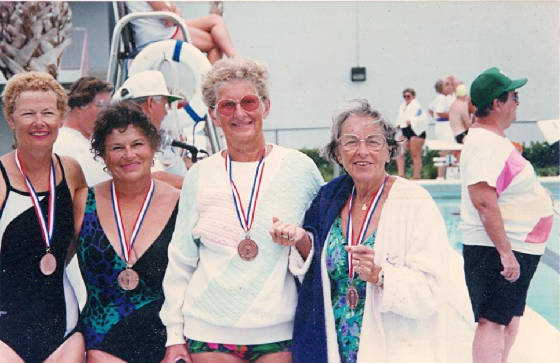 l/r Lois DeFillipo, Joyce VanVlack, Betty Howe, Phyllis Thompson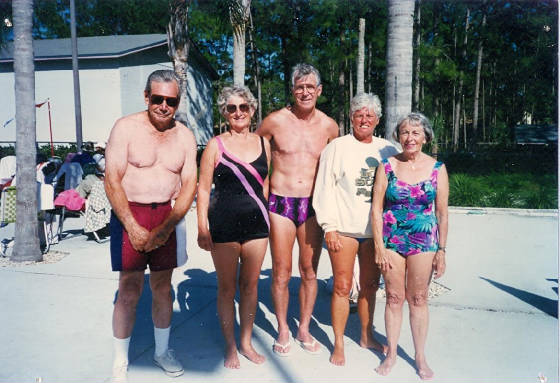 Senior Life Games 1996
Women, Betty Howe, Gale Tjardes, Phyllis Thompson
Men Dick Wilson, Bob Morris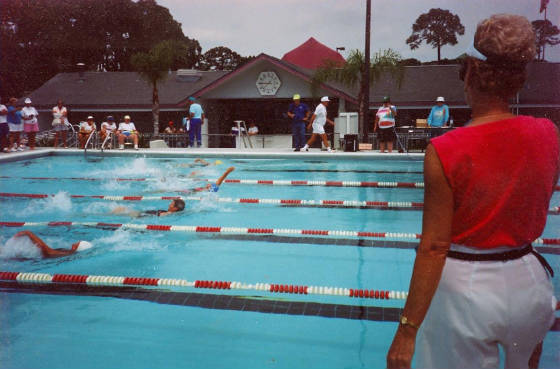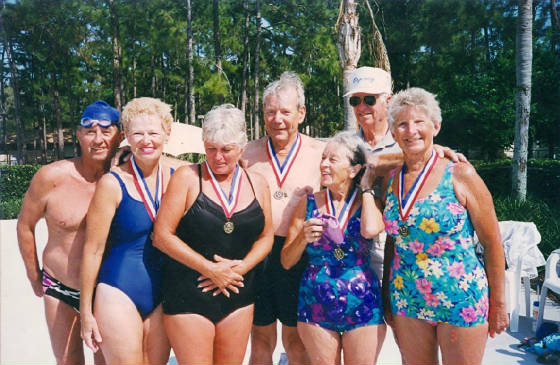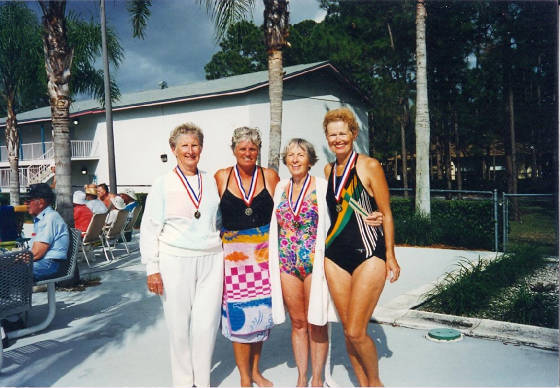 Above, O.R. winners, 1995, Betty, Gale, Phyllis, Lois
Joan Wieman gave us a few photos showing the park when it had a small playground -- a teeter totter, basketball hoop, and a small merry-go-round. Joan also says that at one time there was a group of men who did work for Shareholders who wanted to improved their site. Some photos showing these men working are also posted.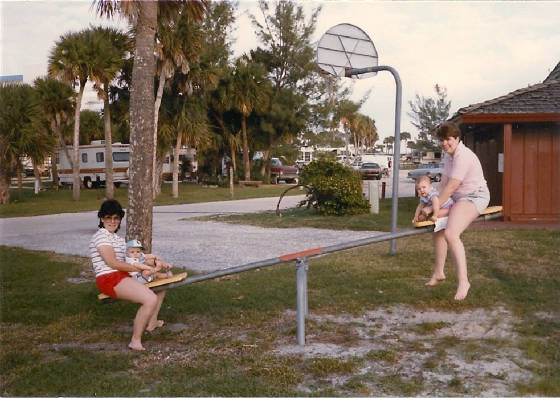 Above Joan's Family using teeter totter, at Comfort Station 2, Basketball court in background. Look at RV's parked in center section on Angelfish.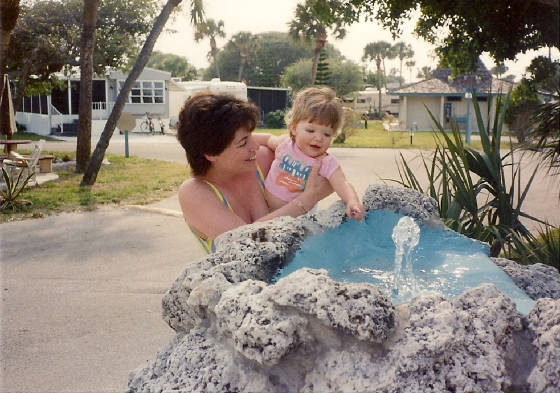 Fancy Drinking Fountain above.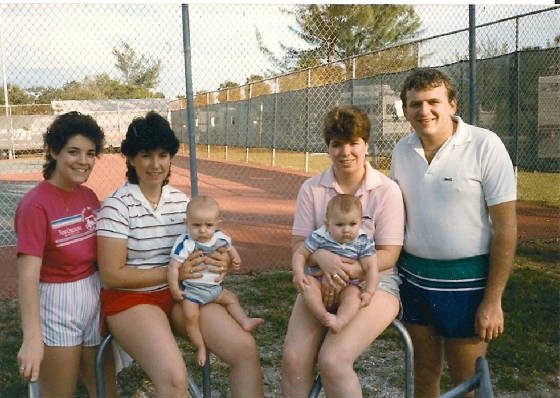 Joan's Family in front of original tennis courts sitting on a merry-go-round.
Below are photos of men working.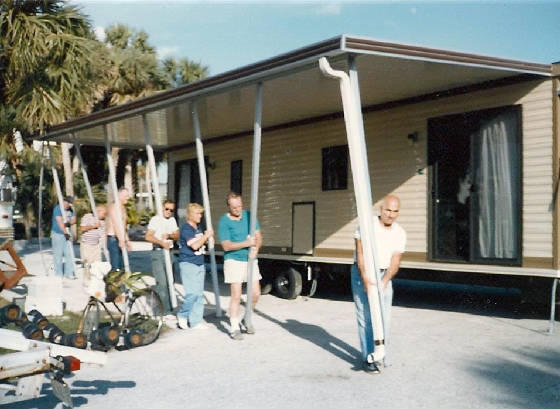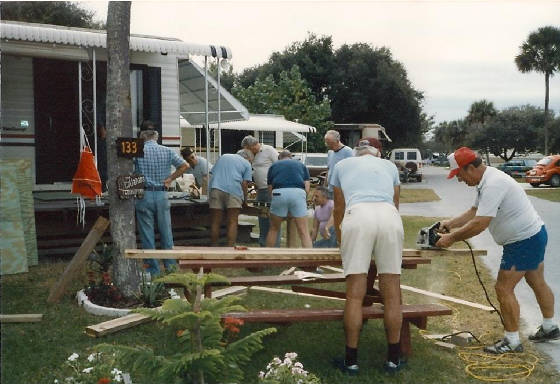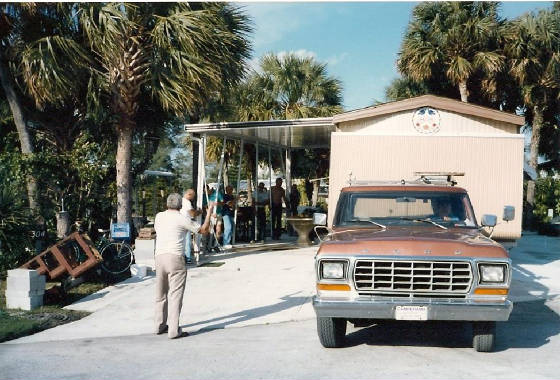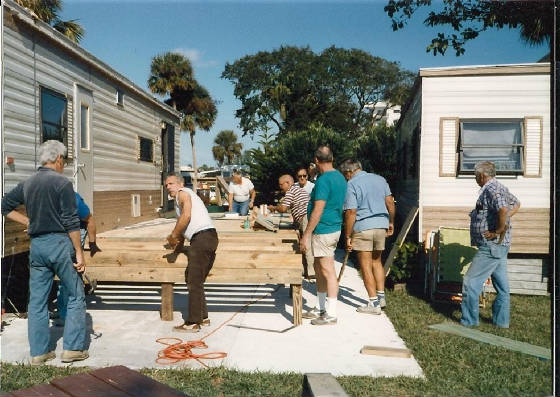 CLICK HERE PART 1 89 OR TALENT SHOW
CLICK, PART 2 89 OR TALENT SHOW
Part 1, Thompson's excerpts 94-98 Talent Show
Part2, Thompson's excerpts 94-98 Talent Show
Part 3, Thompson's excerpts 1994-98 Talent Shows
Part 2 - 1993 O.R. Talent Show
Lil Robinson's photos.
L/Lil standing on her lot on the corner of Jib, Doubloon and Inlet. R/ Lil watching a shuttle launch from the recreation area. Photo below shows Bob & Lil Robinson hosting a party at the pavilion.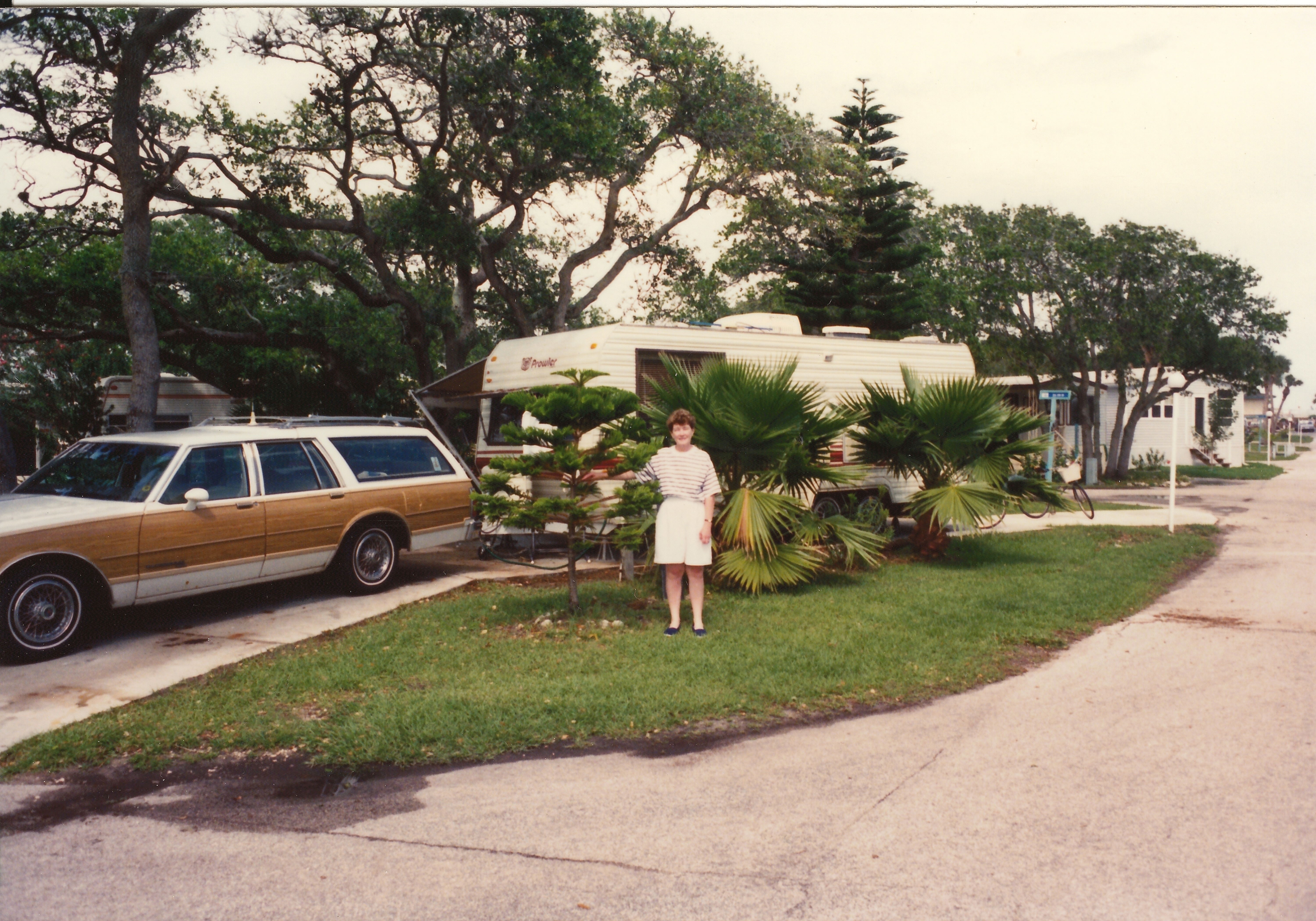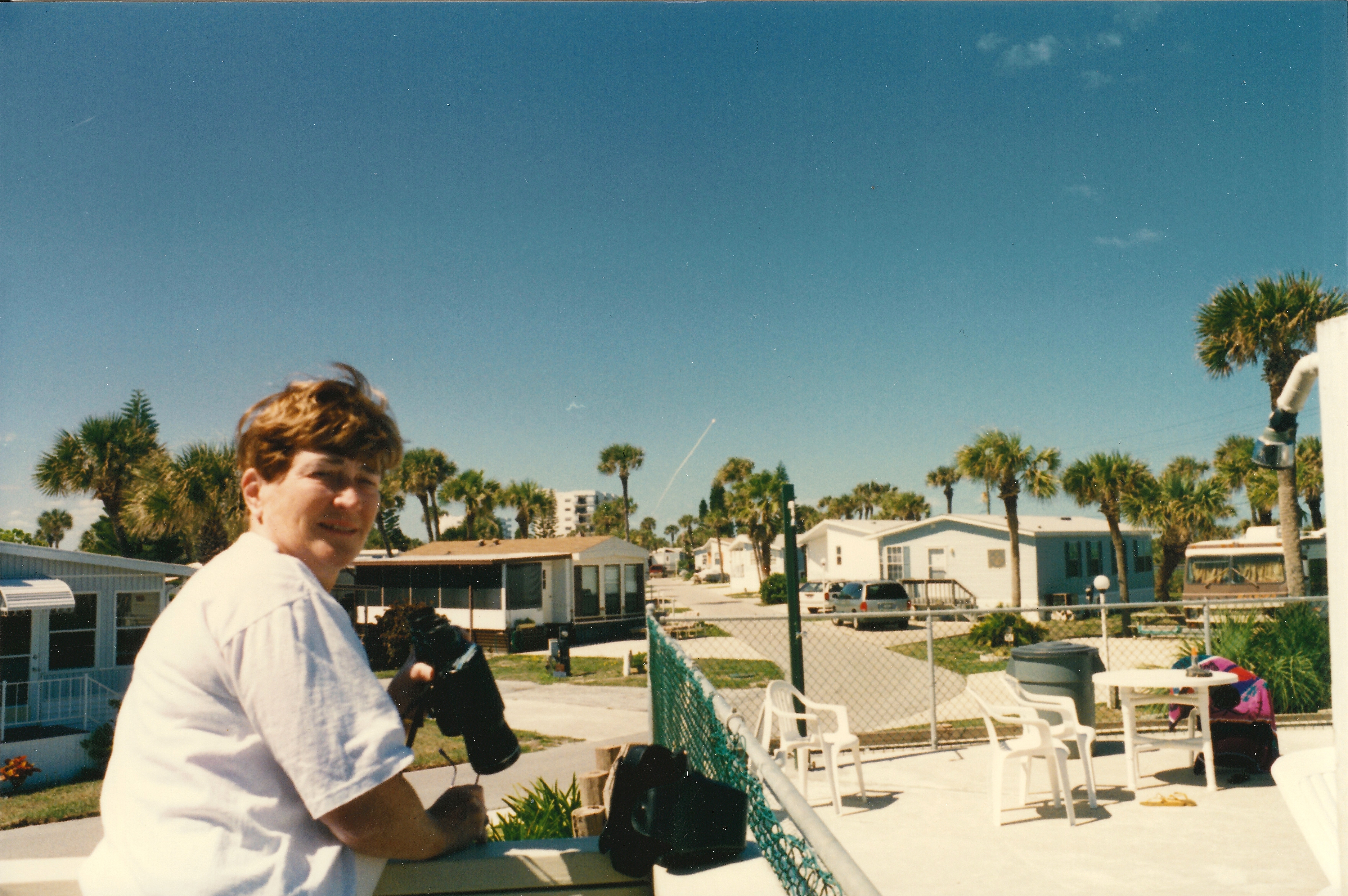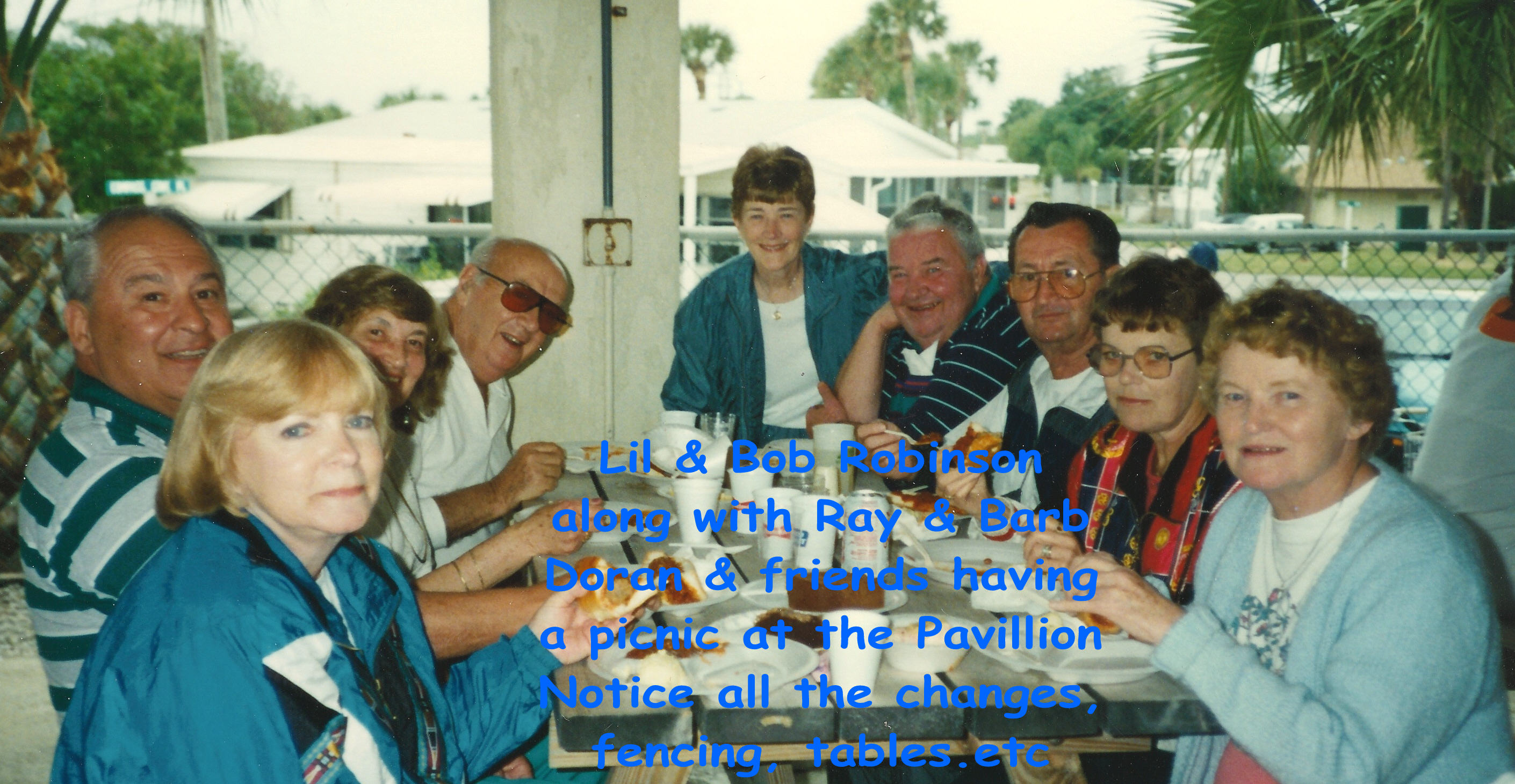 Below are photos donated by Irene Flieth. They consist of a spontaneous parade by the Exercise Class and photos from various Big I -- Illinois, Indiana, Iowa -- Parties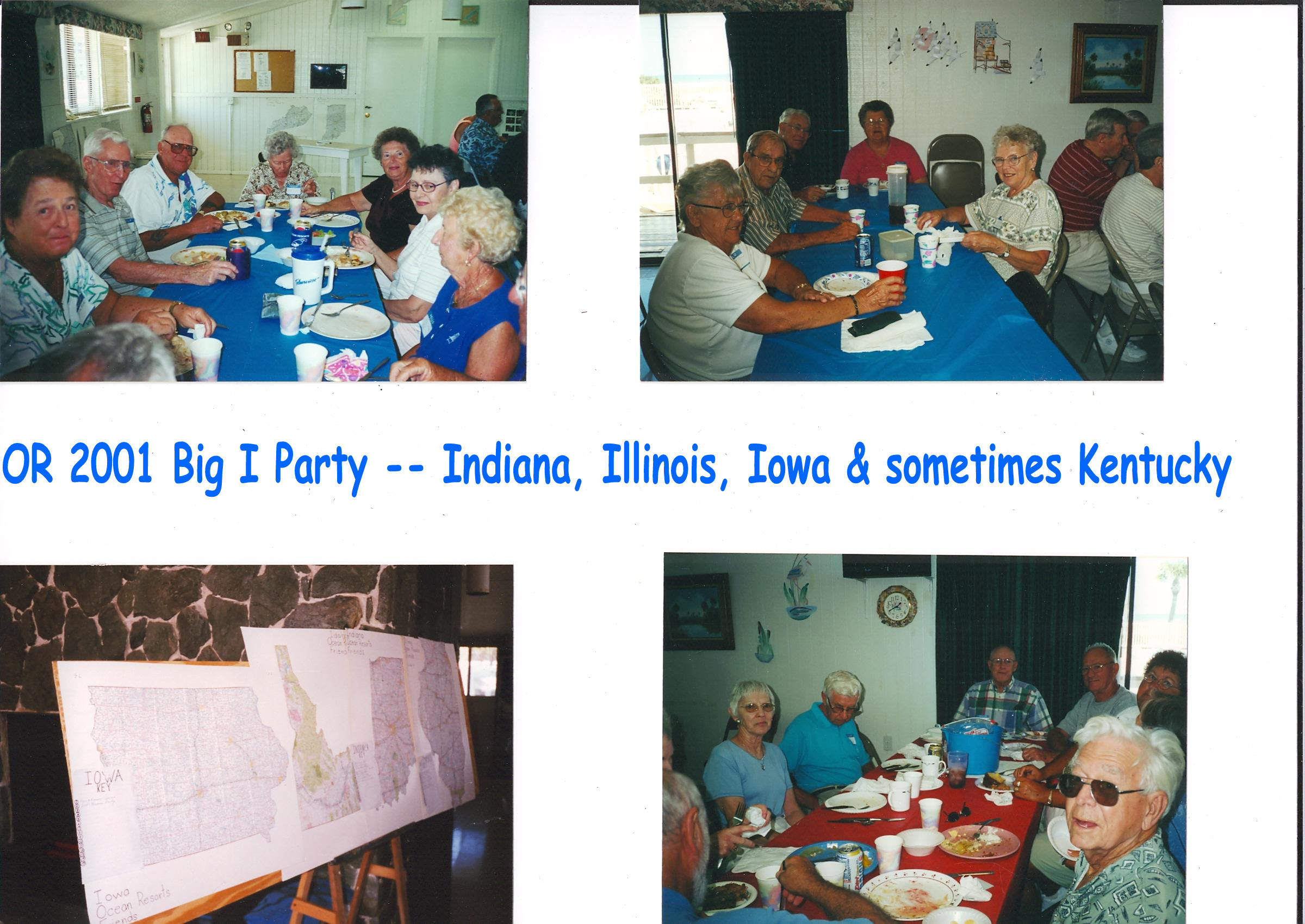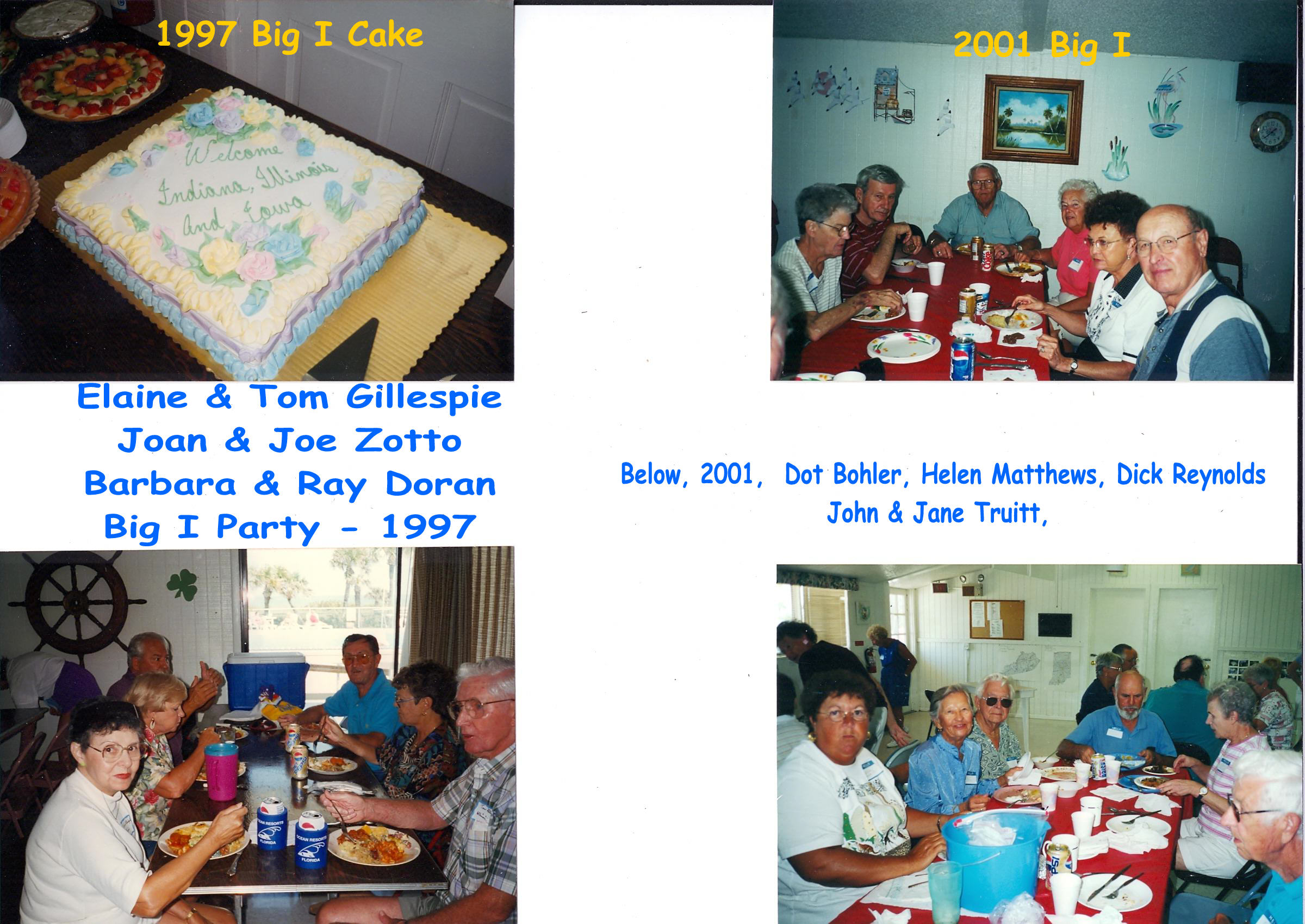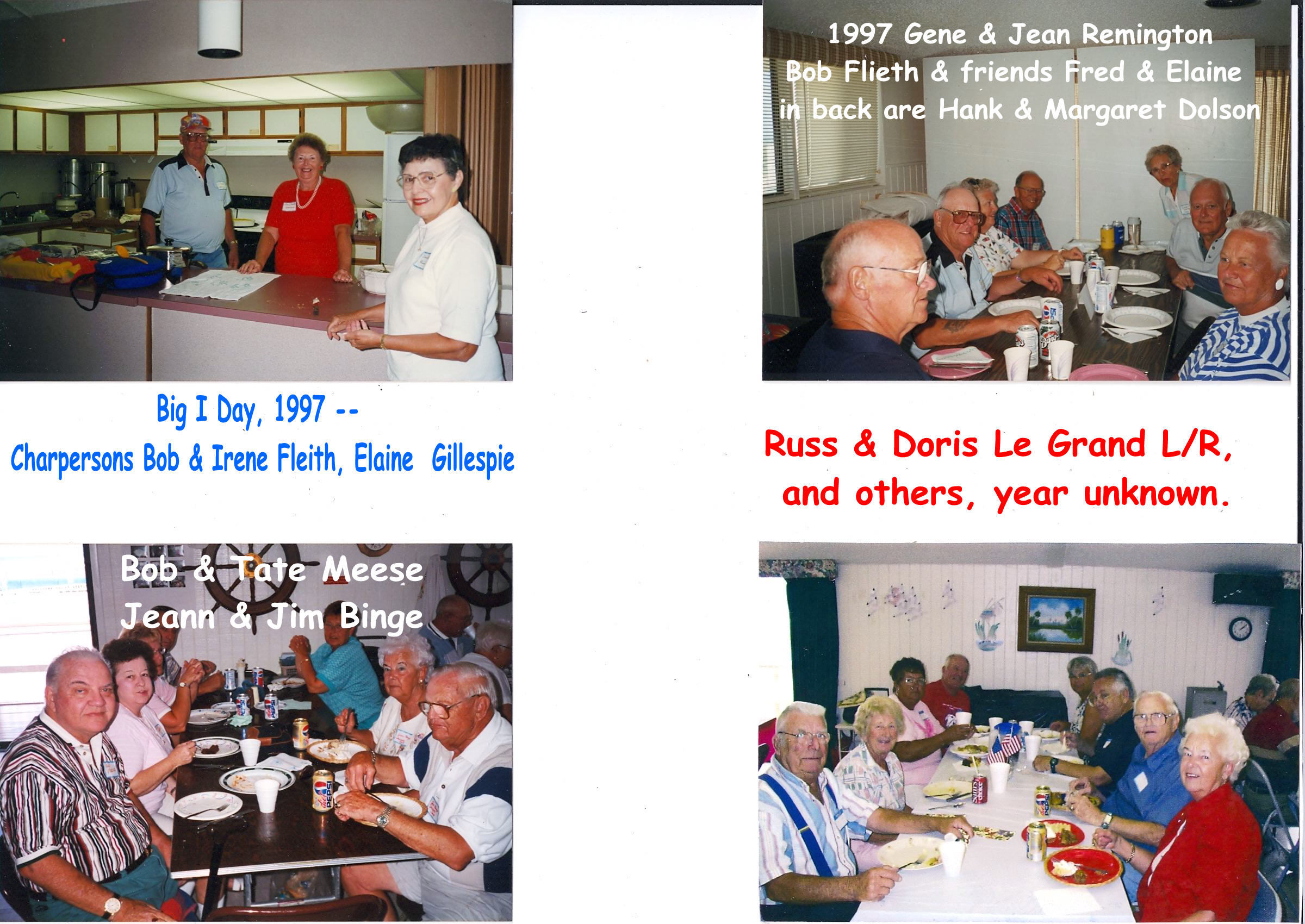 Below are photos donated by Kate Hanson. Many of them were taken in the 80's a 1990 when the Boardwalk opened.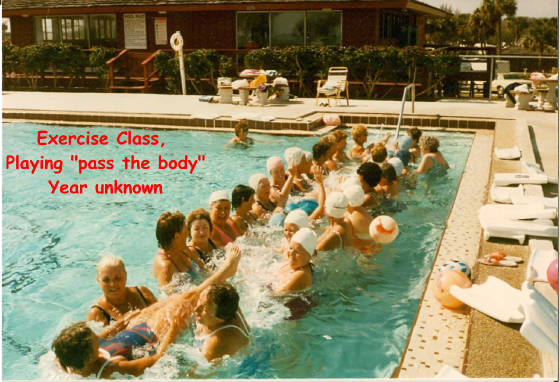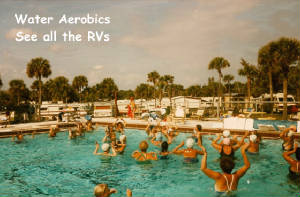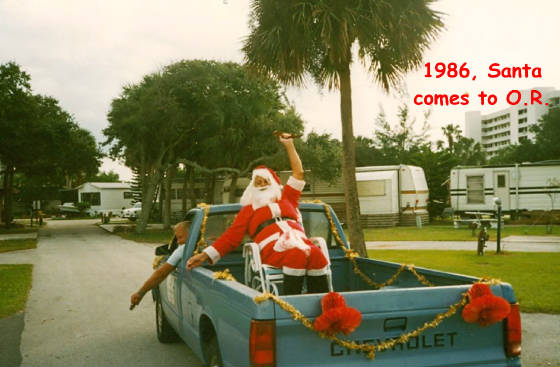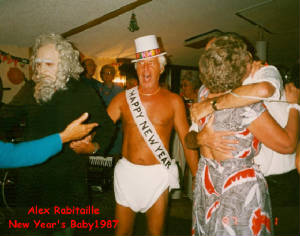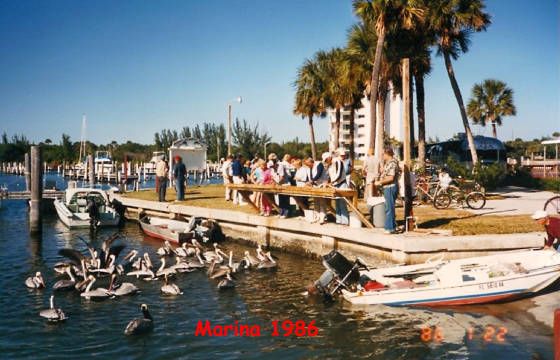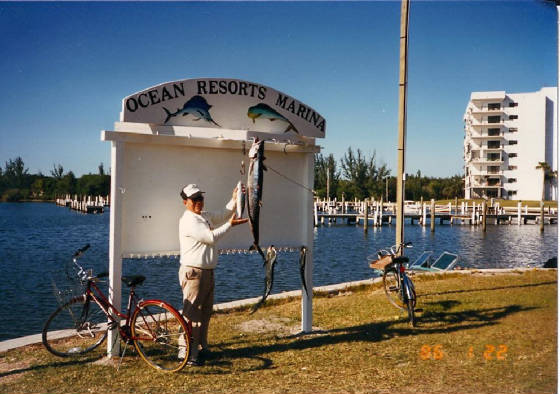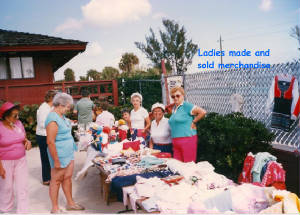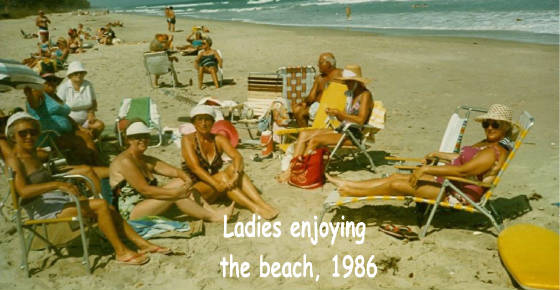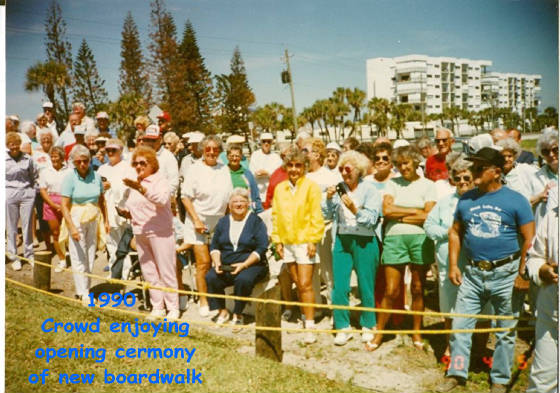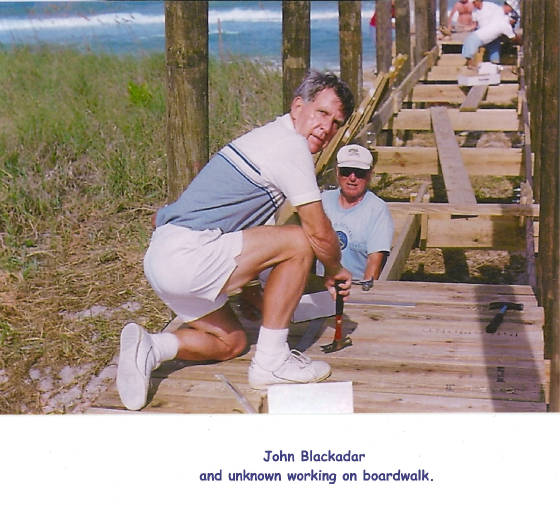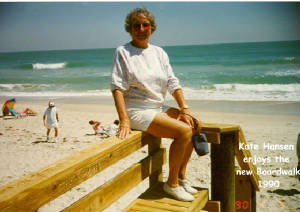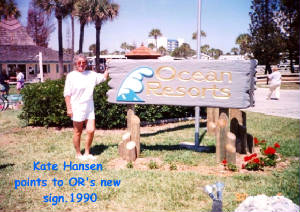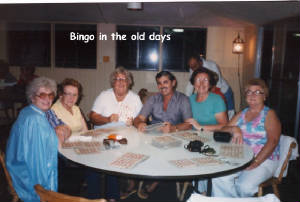 Mary Post donated these photos of a parade evidently held during one of the I Love Ocean Resorts Week celebrations and the ensuing pet show.